Posted by
webchick
on
March 15, 2011 at 3:16pm
Hope this isn't being presumptuous to start throwing around some designs, but I was thinking about this some on the plane ride home...
One of the things that's really challenging about our collaboration tools is understanding what the current status is of an issue. Another thing raised at the talk was that it's very difficult for a passer-by to understand how they might be able to help. And a third pain point is lack of easy, contextual documentation about how to actually do things like write docs, create patches, etc.
So, just as a place to start talking, here's an awful mockup of what a block trying to fix all three of these problems might look like. ;)
---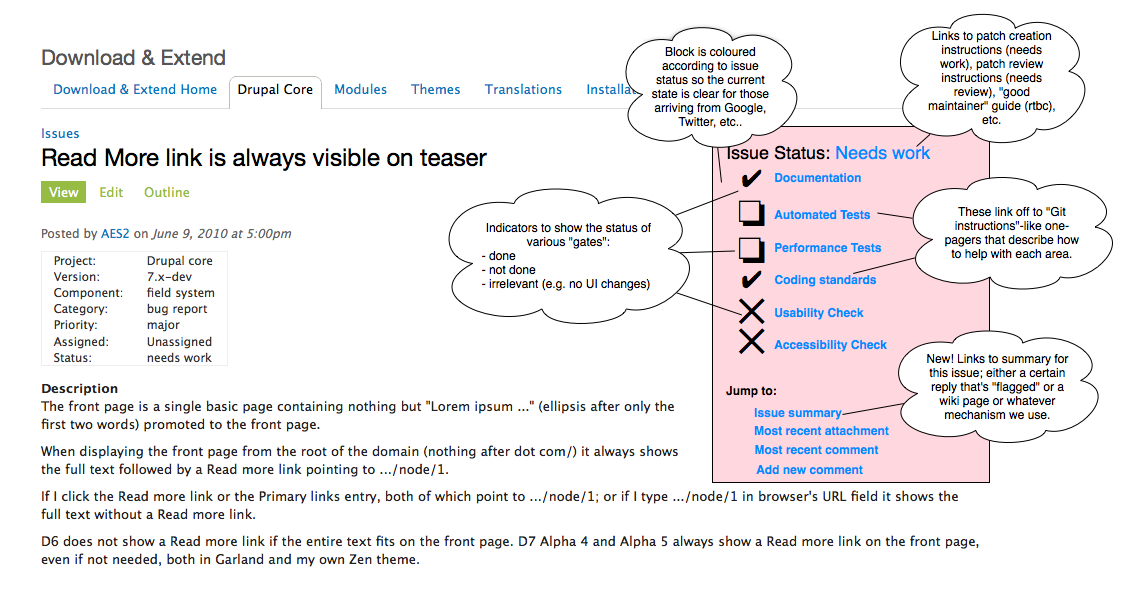 ---
We would make the "gates" identified by Dries more explicit (and also potentially add some, like coding standards or whatever) and show really obviously what was left to do on a patch vs. what is irrelevant (a patch that doesn't change the user interface in any way doesn't really need UX team sign-off, though we might want DX (Developer eXperience) sign-off). Then there are the usual "Jump to" links at the bottom, with one addition of "Issue summary" (which I am completely punting on since that's a separate issue ;)).
I like this general approach much better than tabs, because it would scale out to N possible gates without making baby Jesus cry.
However, there are some obvious problems with this:
Not every project cares about all these gates. The gates probably would need to be configurable on a per-project basis.
If we do that, the fact that this list potentially changes all the time would probably be confusing for people navigating around between core and Views and Documentation, though.
It's total link overload, and it's not at all obvious where those links are going to take you.
It's not clear what sort of instructions we could give for some of these, like "UX check". Currently that consists of "Does it make Bojhan and yoroy cry?" Likely, we'd need to formalize our UX patterns guidelines and link to that instead.
...and likely others as well.
Thoughts?