Start:
2012-02-01

16:00

-

18:00

America/Los_Angeles
We've planned a site visit to Big Art Labs on February 1, 2012, at 4pm, to determine if it will work as the venue for the Drupal Design Camp we're planning for May, 2012.
Does Big Art Labs sound familiar? If you've been to any of the meetups, job fairs, free coworking days or launch parties at Droplabs, then you've already been to Big Art Labs. Please be sure to arrive at Droplabs on time. We will be going on a tour of Big Art Labs' facilities promptly at 4pm.
In the tradition of other site visits that we've gone on, this visit is open to anyone and is an excellent opportunity for anyone interested in starting to help organize this event.
Please sign up or comment below if you're interested in joining us as we tour the facilities. Those who sign up will be on this site visit's mailing list. We'll send you our phone number and any last-minute details if there are any.
What to bring
Bring a camera if you have one.
About Big Art Labs
Big Art Labs is the new collective for art, events and media production in Downtown Los Angeles. It is a city block sized compound of awesome. With 55,000 sq. ft. of raw warehouse space on a 163,000 sq. ft. self-contained plot, Big Art Labs provides production space to large scale artist groups as well as to individual artists in a variety of disciplines.
With five separate warehouses that include finished offices, a multi-use exhibition hall, dance rehearsal space, as well as a performance stage and VIP lounge, Big Art Labs offers the rare combination of raw working art space with finished, private spaces for performance, events and music.
Drupal After Dark
After we finish the tour, a group of us might go to a nearby restaurant or pub to talk. In the past, we've gone to a variety of other locations, including Barbara's at The Brewery (at 620 Moulton Ave., just a 5 minute walk away) and Carnitas Michoacan (on 1901 N. Broadway, just a 5 minute drive away).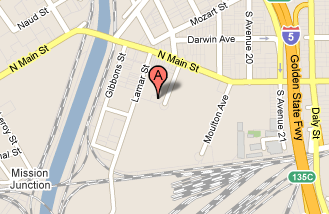 Location and directions
   Big Art Labs
   651 Clover St.
   Los Angeles, CA 90031
Big Art Labs is in the Mission Junction neighborhood of Los Angeles, just 1 mile down Main St. from Philippes (the first-ever venue for LA Drupal meetups!) and Union Station. We're one block west of The Brewery, the largest live-and-work artists' colony in the world.
Free parking in our large parking lot is first-come, first-served. After parking in the lot, follow the yellow signs that point to Droplabs, where our tour will begin. (If our lot is full, you can park for free on Clover St.)
Big Art Labs is a brief walk from the Main St. / Lamar St. stop on the the Metro Local 76 bus line.