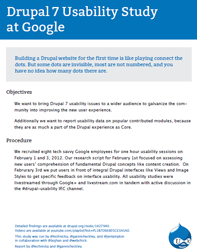 This past February Garen Checkley, Jen Lampton and I ran the Drupal 7 Usability Study at Google. We created a handbook page on drupal.org to share the exhaustive list of usability issues. While we learned about a lot of specific interface and module-level problems, we also saw broad trends that called for a higher-level analysis.
You can view this report here.
We organized the usability issues into four different layers: conceptual, flow, terminology, and interface. In this document we explain what each of these means, and provide key examples and quotes from users. We also propose a quick and concise up-to-speed aid that welcomes users on a new Drupal installation.
Garen, Jen and I will be discussing this report and showing a mock-up of an up-to-speed aid during our core conversation at DrupalCon Denver this Wednesday (3/21/12) at 1pm!
Download the slides from our DrupalCon presentation.
If you want to play around with the mocks we made using FireWorks, you can download the original file.
As we say in the report:
Drupal's learning curve doesn't have to be this steep; let's shape Drupal to become more helpful and supportive for new users.