Start:
2012-06-19

18:00

-

21:00

America/Los_Angeles
The next general Downtown Los Angeles Drupal meetup is on Tuesday, June 19, 2012 and will be at Droplabs, your FREE Drupal event and coworking space in Downtown Los Angeles. Similar to last month's meetup, we will also have breakout sessions and a Users Helping Users portion to the evening.
Thank You to Our Sponsors!
The projector and raffle prizes for this event are being provided by Exaltation of Larks, a Drupal strategy, consulting, development and training company with a team of Drupal experts in Los Angeles. We create fun websites, mobile apps, virtual worlds and e-commerce sites. Follow us at @LarksLA to learn more about our Drupal services and upcoming trainings.
Agenda
Our meetups follow a basic format and start off with Drupal news and announcements, local job announcements, raffle prizes and full-length presentations. As always, we'll also have community Q&A, during which time anyone in attendance can ask questions, divine answers from the crowd and give brief, 5-10 minute-long presentations known as lightning talks.
We'll finish off the night with more networking and a Drupal After Dark at 9:00pm.
For any changes to our agenda for the evening, stay tuned to this meetup announcement or click the Sign up button below (or both!) to be notified when the agenda has been updated.
   6:00pm
   Users Helping Users
   Projector and Tables / Chairs Setup
   7:00pm
   News and Upcoming Events
   Breakout Sessions
   Users Helping Users (continued)
   8:00pm
   Raffle Prizes!
   Featured Presentations
   9:00pm
   Wrap-up, Clean-up and Close-up
   Drupal After Dark and more networking
Join Us on Twitter, Google+ and IRC!
During the meetup, several of us will be in the #drupal-la channel on IRC and the Downtown Drupal hangout on Google+ and all are welcome to join us. The event organizers will also be monitoring Twitter for feedback and questions that mention @DowntownDrupal or use the #DowntownDrupal hashtag.
Users Helping Users
The meetup begins earlier than usual at 6:00pm for Users Helping Users, which is a chance for members of the community to help and be helped by others with whatever questions and problems they're having with Drupal.
Please note that while Users Helping Users is not designed to be a replacement for bona fide consulting from a Drupal professional that there are plenty of Drupal experts and professionals who attend our meetups and sometimes they need help, too!
Breakout Sessions
We have several spaces available for breakout sessions at 7:00pm. This is an opportunity for a open, multi-track format where we break into groups and discuss a variety of topics. Each breakout session is led by a volunteer who picks the topic, picks the space and can optionally report back to the larger group in the form of an announcement or lightning talk.
Featured Presentations
Joseph Del Rivo is an entrepreneur leveraging the flexibility of Drupal and its diverse module portfolio to create websites and applications for both online and offline ventures. Prior to his recent focus on Drupal development, Joe spent a decade developing proprietary analytics and trading tools for securities and derivatives traders. He was also acquiring a portfolio of website domains which he is now developing along with a small team of collaborators.
Joe is going to show us how he utilized the Domain Access module along with Drupal's own statistics capabilities and a dash of Apache magic to create a domain parking system capable of hosting, analyzing traffic, and facilitating inquiries from the hundreds of individual domains via a single hub website and email account. If there is interest and time, Joe can also show us the affiliate marketing system he is developing to integrate this domain parking system with his MerchantMarketers.com domain sales venue.
Raffle prizes! Collect them all! Must be present to win!
Our raffle prizes often include discount codes, magazines, DVDs and books. We are always grateful to our sponsors for their continued support. If you have any items you'd like to donate to the raffle, please contact any of the organizers at the meetup.
Drupal After Dark
Even if you can't make it to the meetup, you're welcome to join us for a Drupal After Dark. After we wrap up the meeting and clean up, a group of us will go to a nearby restaurant or pub. One time we had beers and a bonfire and were serenaded by Skrillex. We've also gone to a variety of other locations, including Barbara's at The Brewery (at 620 Moulton Ave., just a 5 minute walk away) and Carnitas Michoacan (on 1901 N. Broadway, just a 5 minute drive away).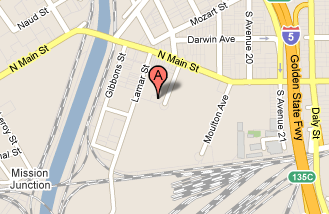 Location and directions
   Droplabs
   651 Clover St.
   Los Angeles, CA 90031
Droplabs is in the Mission Junction neighborhood of Los Angeles at Big Art Labs, just 1 mile down Main St. from Philippes (the first-ever venue for Los Angeles Drupal meetups!) and Union Station. We're one block west of The Brewery, the largest live-and-work artists' colony in the world.
Free parking in our large parking lot is first-come, first-served. After parking in the lot, follow the yellow signs that point to Droplabs. (If our lot is full, you can park for free on Clover St.)
Droplabs is a brief walk from the Main St. / Lamar St. stop on the the Metro Local 76 bus line. This is also the Lincoln Heights / Chinatown DASH stop.
To carpool or catch the Droplabs shuttle from Union Station, post below in the comments.
What to Bring
Just bring your laptop, your business cards or whatever else you need. You're also welcome to bring some light food, sodas or beers to share with others at the meetup.
Please note that our guest wireless network is limited to 1Mb per client, so bring your MiFi router or a phone you can tether with if for some reason you need a lot of bandwidth. Access to our high-speed network is included with a Droplabs membership.
About Droplabs

Droplabs is a collaborative Drupal event and coworking space in Downtown Los Angeles. Created in 2011 by Los Angeles Drupal members for the Los Angeles Drupal community, we are focused on serving the greater Los Angeles Drupal community, enriching the Drupal skills and lives of its members, and bringing joy to our Drupal practice. Our founders represent several local area businesses that have deep roots in the Drupal and open source communities.
To learn more about Droplabs, visit droplabs.net, follow @Droplabs on Twitter, sign up at Meetup.com/Droplabs or like DroplabsLA on Facebook!
About Downtown Los Angeles Drupal
Downtown Los Angeles is one of the most active areas for Drupal in Los Angeles and LA County. We've been meeting regularly on the 3rd Tuesday of every month since early 2010 and now schedule up to 4 regular meetups a month and occasional trainings and social gatherings. Downtown Drupal members also produce special events, code sprints, and the annual Drupal Design Camp LA conference
Attending Drupal events in and around Downtown Los Angeles is one of the best ways to meet and talk with other Drupaleros and we encourage you to attend as many meetings and special events as you'd like. Whether it's to find solutions to problems you've been having, sharing something you've learned or just meeting interesting like-minded people, the Downtown Los Angeles Drupal events are an essential resource for Drupal professionals and hobbyists alike.
If you aren't already a member of Downtown Los Angeles Drupal, it's easy to join our community. Our community calendar is on our "Events" tab on our home page at http://groups.drupal.org/dtla