Posted by
mherchel
on
January 4, 2018 at 1:17pm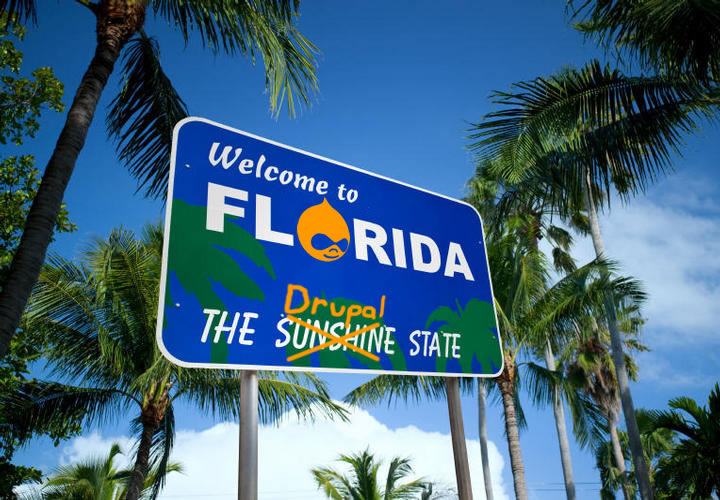 Florida Drupalcamp 2018 is our 10th anniversary and we're going to make it extra special this year! We have three days (spread out over President's Day weekend):
| | |
| --- | --- |
| Fri, Feburary 16th | Full day of free trainings |
| Sat, February 17th | Full day of sessions (including Lightning Talks!) |
| Sun, Feburary 18th | Half day sessions / half day mentored code sprint |
This year we have three amazing featured speakers lined up:
 


 
Angie "Webchick" Byron is a Drupal core committer, co-author of the O'Reilly book Using Drupal, Drupal Association Board Member, Acquian, and general Drupal community cat herder.
 


 
Sally "Justafish" Young is a Senior Technical Architect at Lullabot, and a Drupal 8 JavaScript Core Maintainer.
 


 
Adam "Nerdstein" Bergstein is the Associate Director of Engineering at Civic Actions. He has a masters in application security, and experience in higher education and consulting sectors.
Session submissions are still open!
We need more sessions! We have tons of rooms to fill! The deadline to submit sessions is January 22nd. We love session submissions on topics other than Drupal including
JavaScript frameworks (React, Vue, Angular, et al)
Other CMS's differences with Drupal (WP, Craft, etc)
Integrations with Drupal
Case studies on using Drupal
General Web topics and technologies (free software, CSS, etc)
Business related topics
SysAdmin / DevOps (Containers, etc)
Being Human (Imposter Syndrome, overcoming adversity, inclusion, etc)

If that doesn't convince you...
We also have beaches down here! And it's warm in February!