Start:
2012-11-12 10:00
-
2012-11-13 17:00 America/Los_Angeles
Event type:
Training (free or commercial)
Join us on November 12 & 13, 2012 in Downtown Los Angeles for Site Building with Drupal, two full days of Drupal training! Learn by doing at this hands-on, exercise-based training from Exaltation of Larks, a Drupal strategy, development, consulting and training firm with a team of experts in Los Angeles.
In two days, you will be brought up to speed on Drupal and be ready to tackle their own project. Learn how to manage media, build calendars and complex, dynamic queries of content by selecting and configuring the most popular modules.
This course is suitable both for Drupal users who are new to Drupal and those who want to broaden their Drupal skills. You'll also review Drupal's block system and learn how to use taxonomy to categorize your content.
Duration:
2 days
Price:
$999
Prerequisites:
Experience with web development. Completion of Drupal in a Day, or equivalent experience with Drupal. You should be able to:
Navigate the administration area to manage essential tasks
Configure and set up a basic Drupal site
Install and configure modules
Manage user roles and accounts
By the end of the training, you will be able to:
Build complex and powerful functionality
Articulate best practices of site building with Drupal
Configure both controlled vocabularies and free tagging with Taxonomy
Manage navigation through Drupal's menu system
Configure your site to improve search, through the use of URL path configuration
Be able to configure automatically generated thumbnails
Know how to create advanced listings of content
Maintain a secure and speedy website
What is provided:
Lunch is provided
Participants will receive a printed manual which outlines step-by-step activities
Please bring your own laptop computer
Preparation instructions will be sent to each participant before the class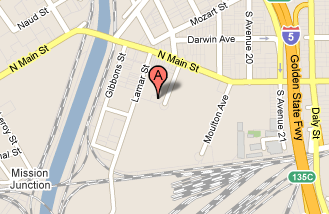 Location and Directions
   Droplabs
   651 Clover St.
   Los Angeles, CA 90031
Droplabs is in the Mission Junction neighborhood of Downtown Los Angeles at Big Art Labs, just 1 mile down Main St. from Union Station and Philippes (the first-ever venue for Los Angeles Drupal meetups!). We're one block west of The Brewery, the largest live-and-work artists' colony in the world.
Free parking in our large parking lot is first-come, first-served. After parking in the lot, follow the yellow signs that point to Droplabs. (If our lot is full, you can park for free on Clover St. or Main St.)
Droplabs is a brief walk from the Main St. / Lamar St. stop on the the Metro Local 76 bus line. This is also the Lincoln Heights / Chinatown DASH stop.