Start:
2017-08-13

13:00

-

16:00

Europe/Chisinau
https://www.facebook.com/events/464058717289373/?acontext=%7B%22source%22%3A5%2C%22page_id_source%22%3A332763026852080%2C%22action_history%22%3A[%7B%22surface%22%3A%22page%22%2C%22mechanism%22%3A%22main_list%22%2C%22extra_data%22%3A%22%7B%5C%22page_id%5C%22%3A332763026852080%2C%5C%22tour_id%5C%22%3Anull%7D%22%7D]%2C%22has_source%22%3Atrue%7D
With hands-on exercises, we will wrap our minds around how to do first steps into Front-end development in Drupal 8 (or / and any other system that uses Twig / Bootstrap on its Front-end).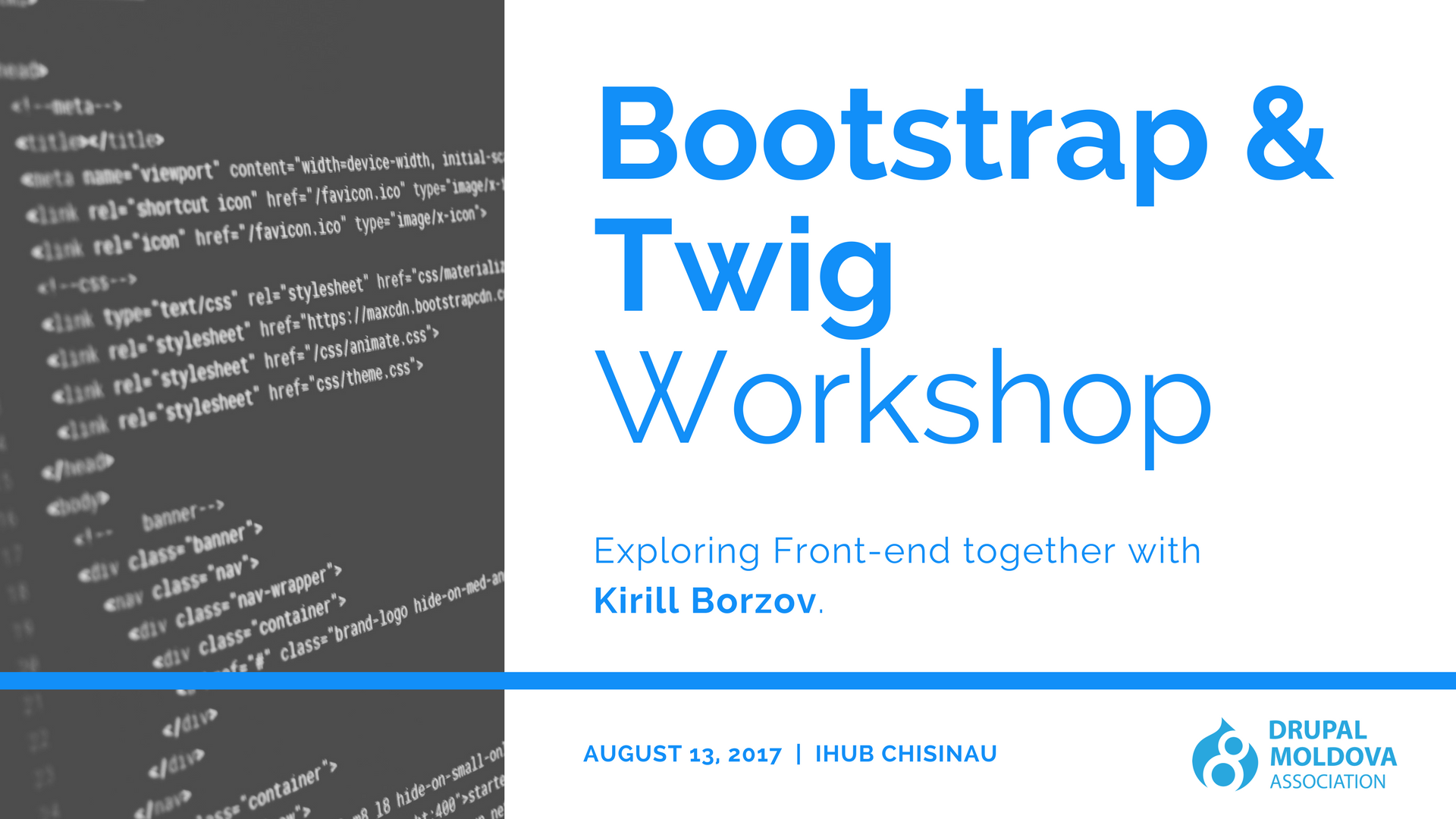 Requirements:
- Laptop;
- Installed LAMP / WAMP / MAMP (or similar);
- Have a working system ready to be styled / themed: either Drupal 8 or similar.
By the end of this workshop, you will learn how to:
Work with Bootstrap;
Work with Twig;
Adjust your website to match your expectation;
Do first steps into Front-End development;
Trainer Description:
Kirill Borzov, is a manager with a vast technical background. Started coding at school 10 years ago with Flash, Delphi, simple HTML and moved to being front-end, full-stack, team lead, department head, technical product owner and currently have the position of special IT projects manager at Mixbook. Have worked on lots of projects and am passionate about great code.
Entrance fee: 150 MDL