Start:
2017-08-11

19:00

-

21:00

Europe/Chisinau
ENG:
We have a strong community of WordPress developers in Moldova, some organizations and individuals have done amazing things, and yet we didn't consolidate a strong, self-organizing community.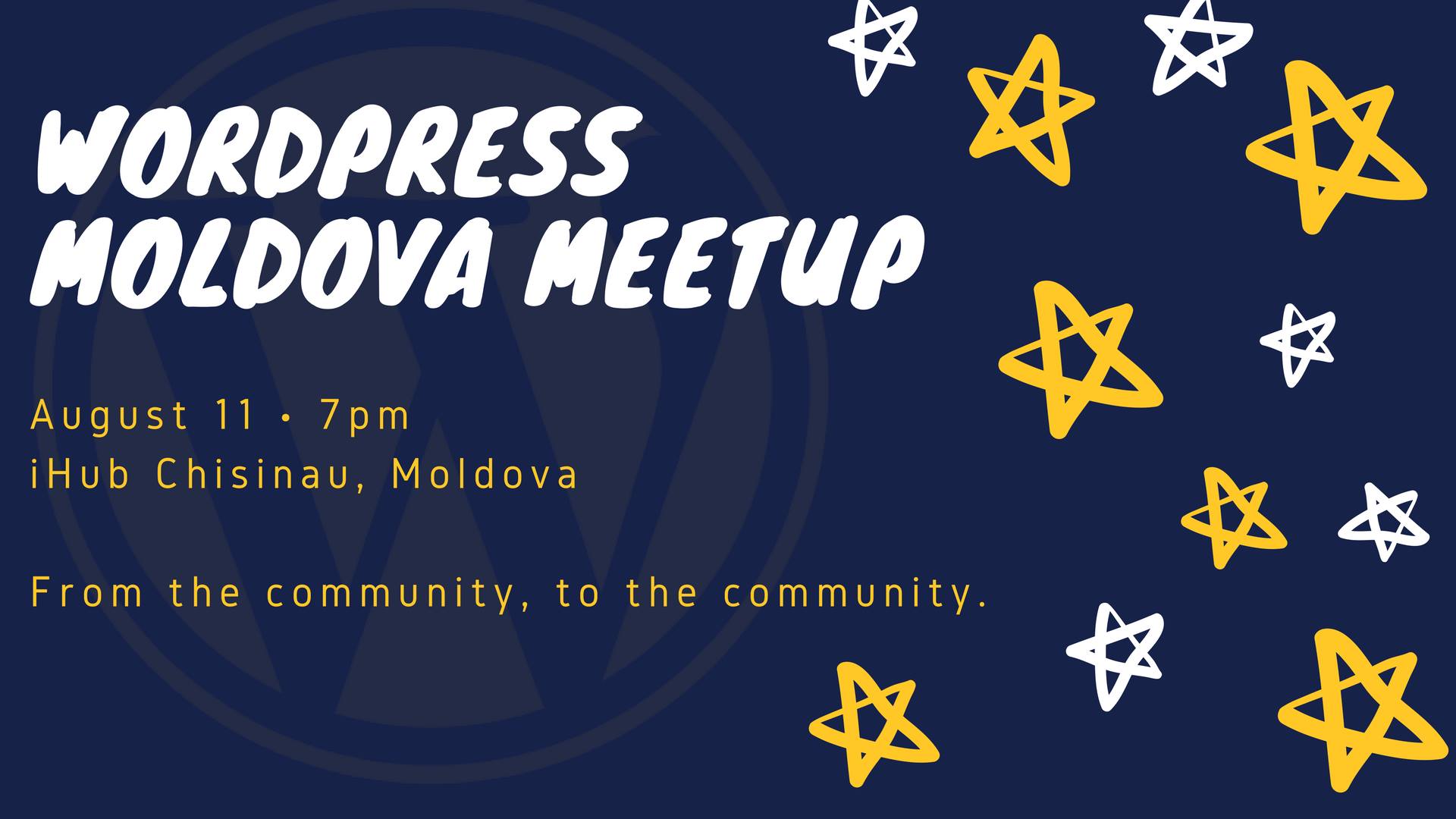 The goal of this event is to kick off a recurring set of events called "WordPress Moldova Meetups", which will help us consolidate the local community, identify community leaders and create an awesome knowledge sharing environment. It's a way for new developers to get to know each other, and senior developers to show off their awesome knowledge and promote knowledge-sharing, as we all are a part of the bigger Open Source community.
Drupal Moldova Association - will help the local WordPress community (and other Open Source communities) to get together and enhance the knowledge sharing process. Our goal is to promote Open Source technologies es and consolidate Open Source communities.
So,
- What: Community WP Meetup with Sessions (any sessions are welcomed).
- Where: iHUB Chisinau - 31 August 1989, 78.
- When: 11 August, 19:00, yes it's Friday but we can later go have a drink and talk about our stuff :>
- How much? We'll do the 1st event for free (Big thanks to iHUB!)
- Who is welcomed? Anyone who's interested in WordPress or Open Source tech (geek or not).
- Language? Any language will do, you can find english, romanian or russian speaking folks.
Register here: https://goo.gl/forms/YUG8RX1q0BRZOY9k2
See ya on 11th.
---
ROM:
Noi avem o comunitate puternică de developeri WordPress în Moldova, și multe organizații și indivizi care au reușit să facă lucruri frumoase în această platformă, și pînă acum noi nu avem o comunitate consolidată, care ar putea să se auto-organizeze.
Scopul acestui eveniment este de a crea un set de evenimente numite "WordPress Moldova Meetups", care vor ajuta să consolideze comunitatea locală, să identifice lideri a comunității și spă creeze un mediu de schimb de experiență. Este o oportunitate pentru noi developeri să se cunoască între ei, ca senior developeri (experți din domeniu) să demonstreze exeriența sa și să promoveze schimb de cunoștințe continuu, încât noi toți facem parte din comunitate de Open Source.
Asociația Drupal Moldova - noi suntem un ONG care are drept scop promovarea comunităților și tehnologiilor Open Source în Moldova, să mărim schimb de experiență între membri comunităților, etc. Noi vrem să ajutăm consolidarea comunității WordPress și a altor comunități similare în Moldova.
Deci,
- Ce? O întîlnire de comunitatea locală WP cu sesiuni / prezentări (orice prezentări sunt bine-venite).
- Unde: iHUB Chisinau - 31 August 1989, 78.
- Când: 11 August 19:00, da e vineri, dar ulterior vom putea ieși la un suc și să discutăm d/e WP.
- Cât? Prima întilnire va fi gratuită (Mulțumesc la iHUB Chisinau).
- Pentru cine? Oricine interesat de WP sau Open Source (fie ești developer sau persoana non-tehnică).
- Limba? Orice limbă, fie engleză, română sau rusă - vei găsi vorbitori de toate 3 limbi la eveniment.
Înregistrați-vă aici: https://goo.gl/forms/YUG8RX1q0BRZOY9k2
Ne vedem pe 11.