Posted by
KarimB
on
December 24, 2010 at 4:42am
Start:
2011-01-27 10:00
-
2011-01-29 18:00 America/Lima
Event type:
Drupalcamp or Regional Summit

Toda América Latina celebra su mayor encuentro Drupal del año!
Por fin podemos anunciar oficialmente el lanzamiento del mayor evento Drupal del año: "Drupal Summit Latino – Lima 2011".
Lima (Perú) alojará el primer evento a nivel latinoamericano dedicado a Drupal los días 27, 28 y 29 de Enero de 2011.
Tendremos 36 conferencias dictadas por reconocidos y experimentados drupaleros provenientes de varios países de América Latina, Estados Unidos y Europa.
Se espera la presencia de más de 300 participantes lo que será sin duda alguna, a nivel continental, la mayor concentración jamás vista de experiencia y conocimiento sobre el software de publicación de sitios Web más exitoso del momento: Drupal por supuesto!
¡ Te invitamos a proponer una sesión para Drupal Summit Latino 2011 ! Por favor ten en cuenta que la fecha límite para las propuestas es el 10 de Enero.
Concurso Drupal en tu vida
El evento será la oportunidad de premiar a la mejor fotografía Drupal del año en nuestro continente. El ganador será elegido por la comunidad en el sitio del evento y será premiado con un pack de libros en castellano de la colección Aprende Drupal 6 (Inicial + Intermedio + Avanzado) de FORCONTU.
Así que ingresa al sitio del evento - ! PARTICIPA y GANA !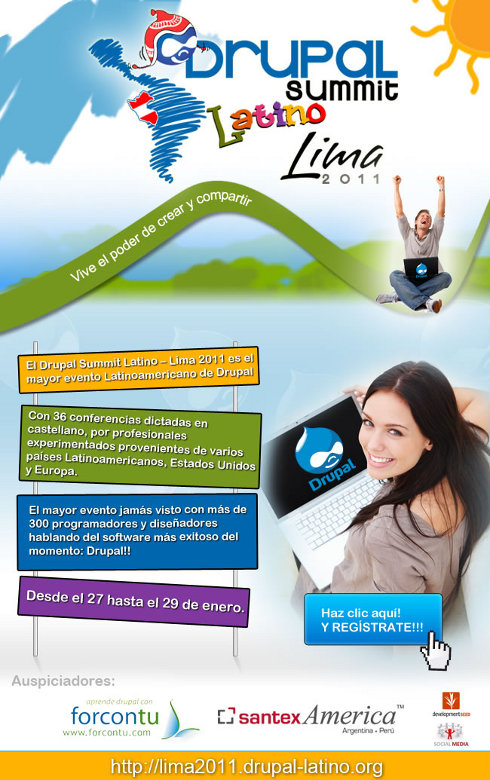 Keynotes
Como si fuera poco, tendremos también 3 KEYNOTES de infarto!
Fran Gil (España), Felix Delattre - xamanu (Alemania) y Fernando P. García – develCuy (Perú) nos hablarán de los temas más candentes del presente y del futuro de Drupal.
! Eso sí que no te lo puedes perder !
Sorteo Curso On-Line FORCONTU durante el evento
Además durante el evento, se sorteará entre todos los participantes un curso integral online de creación y gestión de portales web con Drupal 6 (300 horas de formación online tutorizada, en un período de 5 meses) de FORCONTU.
No pierdas esta increíble oportunidad e ! inscríbete yá !
Más información en http://lima2011.drupal.lat
-- ENGLISH VERSION --
All of Latin America celebrates its biggest Drupal event of the year!
We can finally officially announce officially the biggest event dedicated to Drupal for the whole Latin American continent: "Drupal Summit Latino – Lima 2011".
The summit will take place in Lima (Peru) from 27th to 29th of January 2011.
We will have a full schedule of sessions by renowned and experienced Drupalers from several Latin American countries, the U.S. and Europe.
We are prepared and expect more than 300 attendees, that undoubtedly will be the highest concentration ever seen in Latin America of experience and knowledge of the most successful websites publishing software at the moment: Drupal, of course!
We invite you to propose a session for the Drupal Summit Latino 2011! Please be aware that the deadline for proposals is the 10th of January.
Drupal in your life contest
Within the event the best photo of the year from our continent will be premiered. The winner will be chosen by the community through our event's website votings. The price is the spanish book package collection of "Aprendiendo Drupal 6" (Learning Drupal 6) by FORCONTU.
Visit our website - take part and win!
Keynotes
We'll also have 3 awesome keynotes!
Fran Gil (Spain), Felix Delattre - xamanu (Germany) and Fernando P. García - develCuy (Perú) will talk about the hottest topics of the present and future of Drupal.
Raffle: On-Line training with FORCONTU
During the event we'll raffle a integral Drupal on-line training by FORCONTU about creation and managing websites with Drupal 6 (300 hours of tutored on-line tranings within a period of 5 months).
Don't miss this incredible opportunity and subscribe now!
More information at http://lima2011.drupal.lat