Start:
2010-03-24

18:00

-

20:30

America/New_York
For the March 24th meeting - at Knight Foundation - we'll discuss some of the winners of the Knight Drupal Initiative. We'll be shortly setting up a dial-in (voice only) conference line for this meeting. We hope to invite one or more of the KDI winners to join us via the phone call.
For this event you MUST RSVP with your full name to be admitted by security staff on the first floor elevator lobby. Also you should arrive by 6pm because the elevators will lock out at that time.
Snacks and some refreshments will be provided by Knight Foundation. - Robertson Adams
###
A few of us are having coffee and talking Drupal on Wednesday, February 24, 2010, at the Knight Foundation in Miami. You're invited! As always, just bring your laptop, a copy of Pro Drupal Development or whatever else you need.
This event is free and no RSVP is required, but if you plan to attend please sign up by logging in and clicking the "Sign up" button below. Knowing how many people are interested in attending can help us better select good locations in the future. People who sign up will also have last minute details (if there are any) sent to them before the meeting.
Location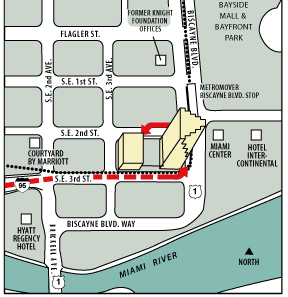 We're meeting at the Knight Foundation, a national non-profit foundation dedicated to promoting journalism. It is the creator of the Knight News Challenge and co-founder of the Knight Drupal Initiative.
We are very grateful to the Foundation for hosting us.
Topics
Previous meetups have been held in coffeeshops, book stores and restaurants and were basically a combination of open discussions and lightning talk-style presentations. We'll have the use of a conference room with a projector this time and have a great opportunity to have longer presentations.
If you'd like to present on a topic or just ask questions of the group, please feel free to leave a comment below.