Start:
2017-10-16 10:30
-
2017-10-17 17:00 Asia/Kolkata
Event type:
Training (free or commercial)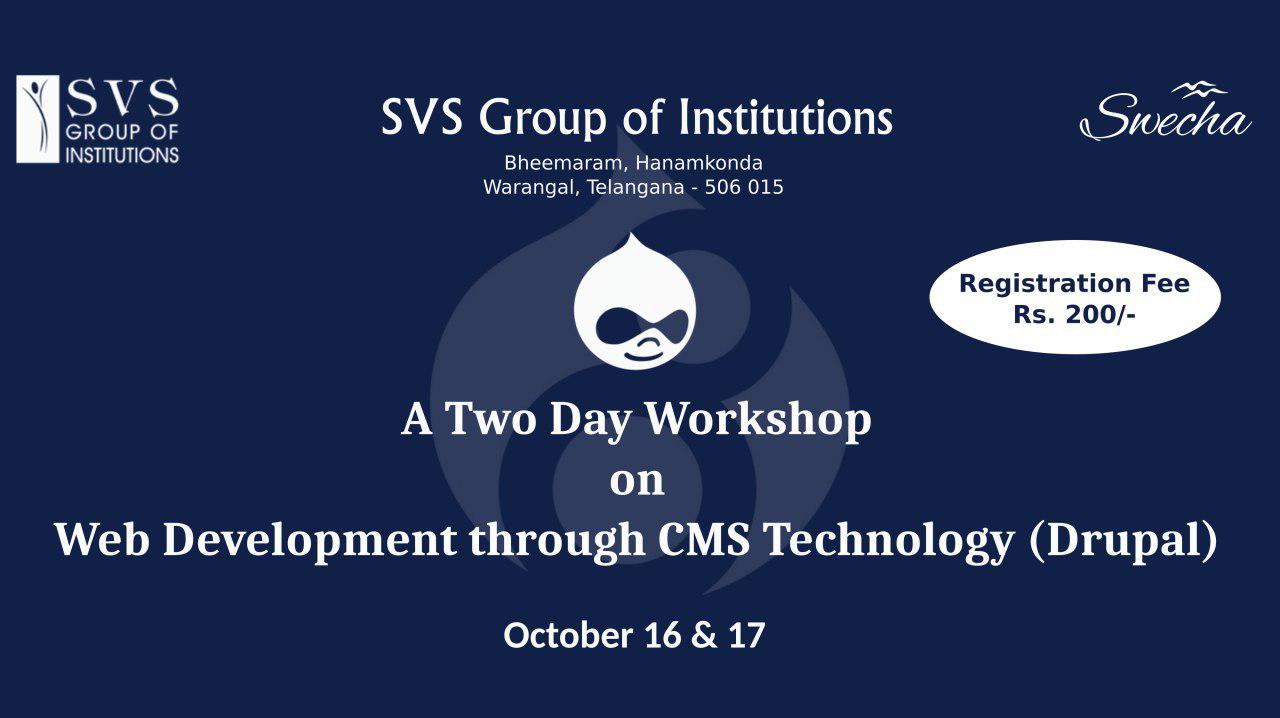 Organiser: Swecha, a non-profit organization committed to promote Free Software Movement in Telangana & Andhra Pradesh.
Speaker :- Nithin Sai, Freelance Drupal Developer, graduate from GITAM University-Hyderabad Campus, Volunteer of Swecha.
Number of students attending: 60
Place: SVS Institute of Technology, Hasanparthy, Bheemaram, Hanamkonda, Warangal, Telangana 506015
Dates: 16&17, October 2017.
Event Work Flow:
Intro to Web Development and CMS(Content Management System)
Installation of Drupal
Basic Site Building
Web Administration
Contributing to Drupal and being part of Drupal community.
About Warangal:
Warangal is a city in the south Indian state of Telangana. It was the capital of the Kakatiya dynasty from the 12th to 14th centuries, and many intricately carved monuments from this period still stand. Among them are the ruins of 13th-century Warangal Fort and the Thousand Pillar Temple, built in 1163. Set on a lake, Bhadrakali Temple dates to the 7th century and is dedicated to the Hindu goddess Kali.[source:wikipedia]
Drupal Community in Warangal is it's budding phase and majority of the community are enginnering undergrads.
Previous DCAP events in & around Warangal
https://groups.drupal.org/node/517479