Posted by
larowlan
on
April 30, 2014 at 10:26pm
What's new with Drupal 8?
This week saw the release of Drupal 8 alpha 11 and two major patches - one adding PSR-4 autoloading support and another containing the Drupal 6 to Drupal 8 migration path.
The PSR-4 patch added PSR-4 support alongside PSR-0 but it is planned to remove PSR-0 support for module classes before the first beta. We will continue to support PSR-0 for external libraries provided by modules. For more information read the change record.
The Drupal 6 to Drupal 8 migrate path was a huge patch, congratulations to all those involved. For more information keep watching This week in Drupal Core and the Core group. You can take it for a spin with the latest version of drush and drush migrate-manifest.
Where's Drupal 8 at in terms of release?
Just last week!
Last week, we fixed 12 critical issues and 16 major issues, and opened 10 criticals and 16 majors. That puts us overall at 118 release-blocking critical issues and 517 major issues.
7 beta-blocking issues were fixed last week. There are still 28 of 165 beta blockers that must be resolved before we can release a Drupal 8 beta.
How close are we to Beta 1?
It's the end of April, and we are down to just 28 beta-blocking issues. For context, here's how that count has changed over the course of 2014. We started 2014 with 140 known beta blockers and missing change records combined, with 123 of those issues still unresolved. We've identified additional beta-blocking issues along the way, so as we get closer, the picture becomes more complete. In total, we've already fixed 137 beta blockers and completed more than 70 missed change records. The 28 issues that remain are a fraction of more than 200 total.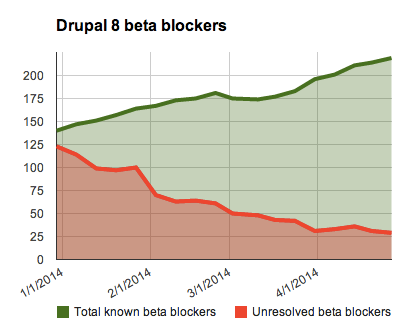 That said, we need your help. Many of the beta blockers that remain include significant changes, and the community's support and focus on these issues now will pay off at DrupalCon Austin sprints and after. Or, help with one of the approachable tasks for beta 1 we shared last week. (Also see the "Where can I help?" section below.)
...So then when is Drupal 8 released?
We release the first Drupal 8 release candidate when there are 0 critical issues remaining. Right now there are 118 (including the 28 top-priority beta blockers). The number of criticals has been dropping steadily since DrupalCon Prague thanks to 900 Drupal 8 patch contributors during that timeframe alone. (In total, 2035 people have contributed to Drupal 8 patches over the past three years!)
That still looks like a lot of remaining criticals -- and it is. However, when we compare it to the total work that's already been done in the cycle, including more than 700 critical issues already fixed, it becomes clear we are in the final phase of Drupal 8's development. (Yep... keep scrolling...)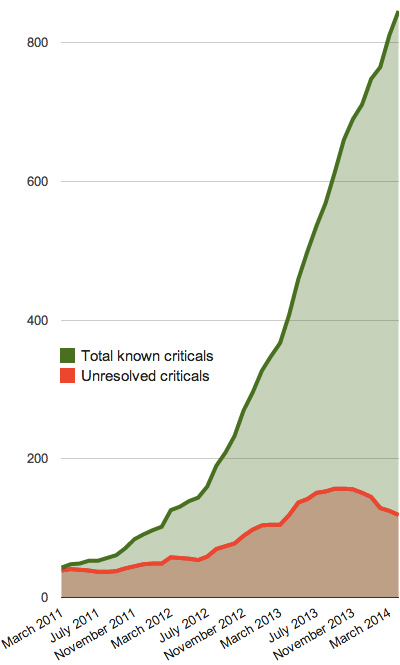 If you're as eager to build amazing things with Drupal 8 as we are, please devote what resources you can to resolving the remaining release blockers, or support the indefatigable contributors who continue to shape Drupal 8 directly.
Where can I help?
Top criticals to hit this week
Each week, we check with core maintainers and contributors for the "extra critical" criticals that are blocking other work. These issues are often tough problems with a long history. If you're familiar with the problem space of one of these issues and have the time to dig in, help drive it forward by reviewing, improving, and testing its patch, and by making sure the issue's summary is up to date and any API changes are documented with a draft change record.
More ways to help
Notable Commits
The best of git log --since "2014-04-21" --pretty=oneline (90 commits in total):
You can also always check the Change records for Drupal core for the full list of Drupal 8 API changes from Drupal 7.
Drupal 8 Around the Interwebs
Blog posts about Drupal 8 and how much it's going to rock your face.
Drupal 8 in "Real Life"
May 2: DrupalJam in the Netherlands has a session on Drupal 8 patterns (plus maybe a streamed Q&A with Dries!)
May 2-4: DrupalCamp Toronto schedule is out and there are numerous Drupal 8 sessions.
May 16-18: DrupalCamp Spain has several great D8 session proposals and even a sprint on several Drupal 8 topics.
May 31-June 8: DrupalCon Austin and extended sprints. This year's North American DrupalCon will include many Drupal 8 sessions, trainings, and sprints. The conference is June 2-6 with the community sprint on Jun 7, and there are plans extended sprints the weekends before and after the conference. See the signup sheet for Austin's extended sprints. Austin will be critical to make progress toward Drupal 8's release, so please plan to participate in the sprints if you can!
May 24th-25th:
Drupal Camp France
Whew! That's a wrap!
Do you follow Drupal Planet with devotion, or keep a close eye on the Drupal event calendar, or git pull origin 8.x every morning without fail before your coffee? We're looking for more contributors to help compile these posts. You could either take a few hours once every six weeks or so to put together a whole post, or help with one section more regularly. Contact xjm if you'd like to help communicate all the interesting happenings in Drupal 8!