Posted by
mikgreen
on
July 30, 2010 at 2:43pm
Start:
2010-09-25

10:00

-

18:00

Europe/Riga
Event type:
Drupalcamp or Regional Summit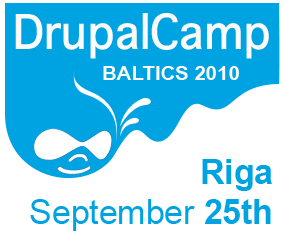 First ever DrupalCamp in Baltics region will take place on September 25th in Riga, Latvia. Camp will bring together Drupal enthusiasts and alike from Estonia, Latvia, Lithuania and guests.
DrupalCamp Baltics will be a one day event with two session tracks covering from basics of Drupal based web development to doing Drupal business and advanced development topics.
Camp will feature speakers, Drupal professionals, from multiple countries, as well as informal BoF sessions and social gathering.
The venue for the camp is Stockholm School of Economics in Riga (SSE Riga). SSE Riga is also running a Drupal site www.sseriga.edu.lv
DrupalCamp Baltics registration, programme and more information will be available soon at www.DrupalCamp.lv.
Camp will be held in English.
Contact camp@drupalcamp.lv with session proposals and other requests.