BANSA.org is a Drupal site created by Matthew Blake (also a new found friend).
On our several mail conversations, he told me that his motivation to do a Filipino/Tagalog/Bisaya/etc web site is based on one goal:
To learn Filipino languages.
Here are quotations from Matt's endearing e-mails:
...Memorizing vocabulary has always been harder for me than figuring out how things fit and work together. Tagalog allows you to express more with a smaller vocabulary once you understand the language. To me the grammar seems elegant in a way.

...the main problem with other online Tagalog dictionaries is that if you take a random word from a sentence (other than the really common words) there is a good chance the word has an affix on it so you need to try to figure out the root.

I wanted something that would make it easier to find roots to words if the actual word isn't in the dictionary. **It eventually grew into the bansa.org website**.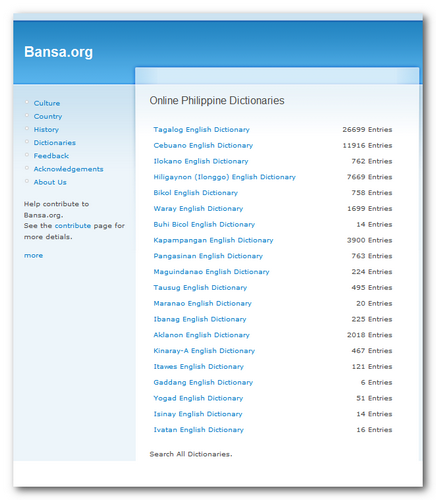 According to Matt, he is also exposed to Ilokano, Ibanag, Itawis and Isinay. Really cool for a foreigner noh? I wish I knew those dialects too.
Unfortunately, he said he's discontinuing the site. He is no longer considering Drupal for the expansion of the project. Luckily, he is considering to rebuild it using Python. Ah, another kick-ass platform. No wonder, Matt is a polyglot in both human and programming languages. Oh, and I forgot to share that he ended up marrying a Filipina and now has three kids. Way to go brother! Congratulations.
To me, a person like Matt gives inspiration to help and contribute more to our community. Whether it's a translation kit, a usability interface improvement, marketing or what-not... people like him who are not even native-born Filipino tend to motivate by giving more reason to love our own roots.
Too deep? Well I hope you don't fall in the hole. The point is that Matt has a goal: to learn Filipino (plus other dialects) and contribute back in the process.
Call me naive but that's a perfect example for me!
The best of luck to your projects Matt!
Proud to be Pinoy,
Marc Robinsone Caballero