Posted by
xjm
on
February 8, 2014 at 10:08pm
What's new with Drupal 8?
It's been a remarkable couple of weeks for Drupal 8, with several landmark changes, a global sprint, and a surge in core issue queue activity.
Global sprint weekend
The second Global Sprint Weekend was held January 25-26. Over 400 sprinters participated at 39 locations on six continents, with others participating remotely in IRC. Some quick core issue queue statistics from the sprint timeframe:
80 new Drupal 8 core issues created
553 Drupal 8 patches submitted
2468 comments posted on 646 Drupal 8 issues
113 Drupal 8 issues RTBCed
A huge thanks to everyone who participated, and especially to the sprint organizers and mentors who helped make it happen.
Removal of the variable subsystem

Right on the heels of the Global Sprint Weekend, the last patch to convert variables to config or state was committed, and within a day the old variable subsystem was removed. This was the culmination of a year and a half of work by more than 80 contributors, and an incredible milestone for the Configuration Management Initiative.
Removal of the 7.x to 8.x upgrade path
At DrupalCon Prague, core maintainers agreed to stop using update.php for major version upgrades in favor of providing data migration from Drupal 7 (and Drupal 6!) with Migrate in core. So, last week we fixed Issue #2168011: Remove all 7.x to 8.x update hooks and disallow updates from the previous major version. Now the core codebase is as committed to Migrate as we are. ;) See Drupal 7 sites can no longer be upgraded to Drupal 8 with update.php for more information.
Now that hook_update_N() implementations will no longer be added for data model changes from Drupal 7, core patch contributors should keep an eye out for patches that might require migration updates instead. For details, read: No more 7.x to 8.x hook_update_N() -- file Migrate issues instead.
Change record drafts
It's now possible to create drafts of API change records, and a draft change record will be required before any API change is committed starting February 14. More information on the new feature and change record process: Change records now needed before commit.
On January 31, in preparation for this change, core contributors reduced the missing change record count from 40 to 20 in 24 hours. We actually halved this long-outstanding documentation debt within a single day. Amazing work!
Theme system conversions
Core theme system contributors have been busy the past several weeks, converting numerous theme functions to Twig and removing all calls to theme() outside drupal_render() (and some automated tests). This important theme system cleanup has been ongoing for more than seven months and blocks a beta release.
Additionally, after lots of work on these issues, joelpittet joined the theme subsystem maintainer team. Thanks Joel!
Where's Drupal 8 at in terms of release?
Last week, we fixed 14 critical issues and 24 major issues, and opened 5 criticals and 16 majors. That puts us overall at 132 release-blocking critical issues and 473 major issues.
11 beta-blocking issues were fixed last week. There are still 51 of 115 beta blockers that must be resolved and 12 change records that must be written before we can release a Drupal 8 beta.
Here's a quick look at our progress on criticals and beta blockers in January: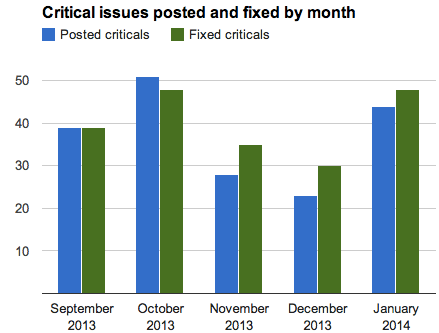 We tied our previous record of 48 criticals fixed within a single month, but this time while posting fewer new ones than that. ;) Great work!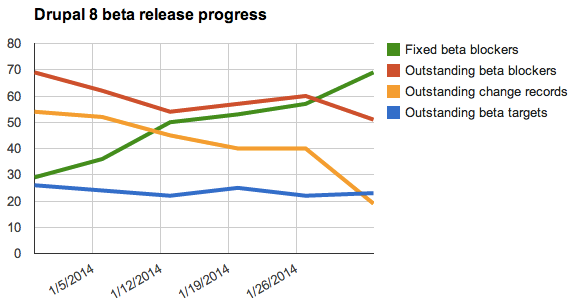 We fixed a grand total of 37 beta blockers in January, putting us past the halfway point for the beta! We also made great progress on cleaning up the API documentation debt of our outstanding change records -- from over 50 at the start of the month to 19 at the end (and just 12 as of today)! That said, we also identified 20-odd additional beta-blocking issues over the course of the month, so it's important to keep our focus on these top-priority issues.
Where can I help?
Top criticals to hit this week
Each week, we check with core maintainers and contributors for the "extra critical" criticals that are blocking other work. These issues are often tough problems with a long history. If you're familiar with the problem space of one of these issues and have the time to dig in, help drive it forward by reviewing, improving, and testing its patch, and by making sure the issue's summary is up to date and any API changes are documented with a draft change record.
More ways to help
Notable Commits
The best of git log --after=2014-01-24 --pretty=oneline (191 commits in total):
You can also always check the Change records for Drupal core for the full list of Drupal 8 API changes from Drupal 7.
Drupal 8 Around the Interwebs
Blog posts about Drupal 8 and how much it's going to rock your face.
Drupal 8 in "Real Life"
Whew! That's a wrap!
Do you follow Drupal Planet with devotion, or keep a close eye on the Drupal event calendar, or git pull origin 8.x every morning without fail before your coffee? We're looking for more contributors to help compile these posts. You could either take a few hours once every six weeks or so to put together a whole post, or help with one section more regularly. Contact xjm if you'd like to help communicate all the interesting happenings in Drupal 8!