Start:
2016-06-27

18:30

-

22:30

America/Toronto
Join us at our next DrupalTO meetup on Monday, June 27th at 6:30pm.
Date: Monday, June 27th
Start: 6:30pm
Location: BrightLane Inc., 545 King St. W. (map)
Huge thanks to our sponsorship partners: BrightLane Inc. and Digital Echidna
June's meetup features Pierre Marcel presenting about Drupal VM Integration in your Day-to-Day Development Workflow. We'll head over to Fynn's of Temple Bar after their presentation to continue our discussions over drinks and food.
More details are available on the Meetup.com event page. Please RSVP there.
These events are hosted by DrupalTO, representing Toronto's Drupal community for 10+ years!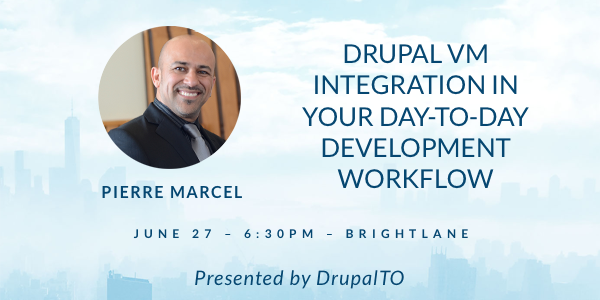 "In this session, we'll go over at a high level how to set up required apps in order to run Drupal VM. We will focus on how to use it in your day-to-day development to optimize your workflow efficiency and how to use it in your ongoing projects. We'll also look at Drush and Drush alias integration for easy syncing with production versions of your site, and tips and tricks on how to speed up development processes using Terminal and other tools."