Start:
2018-01-25

09:30

-

16:30

Australia/Brisbane
Event type:
Training (free or commercial)
Intermediate Drupal 8 training as a part of Drupal Global Training Day.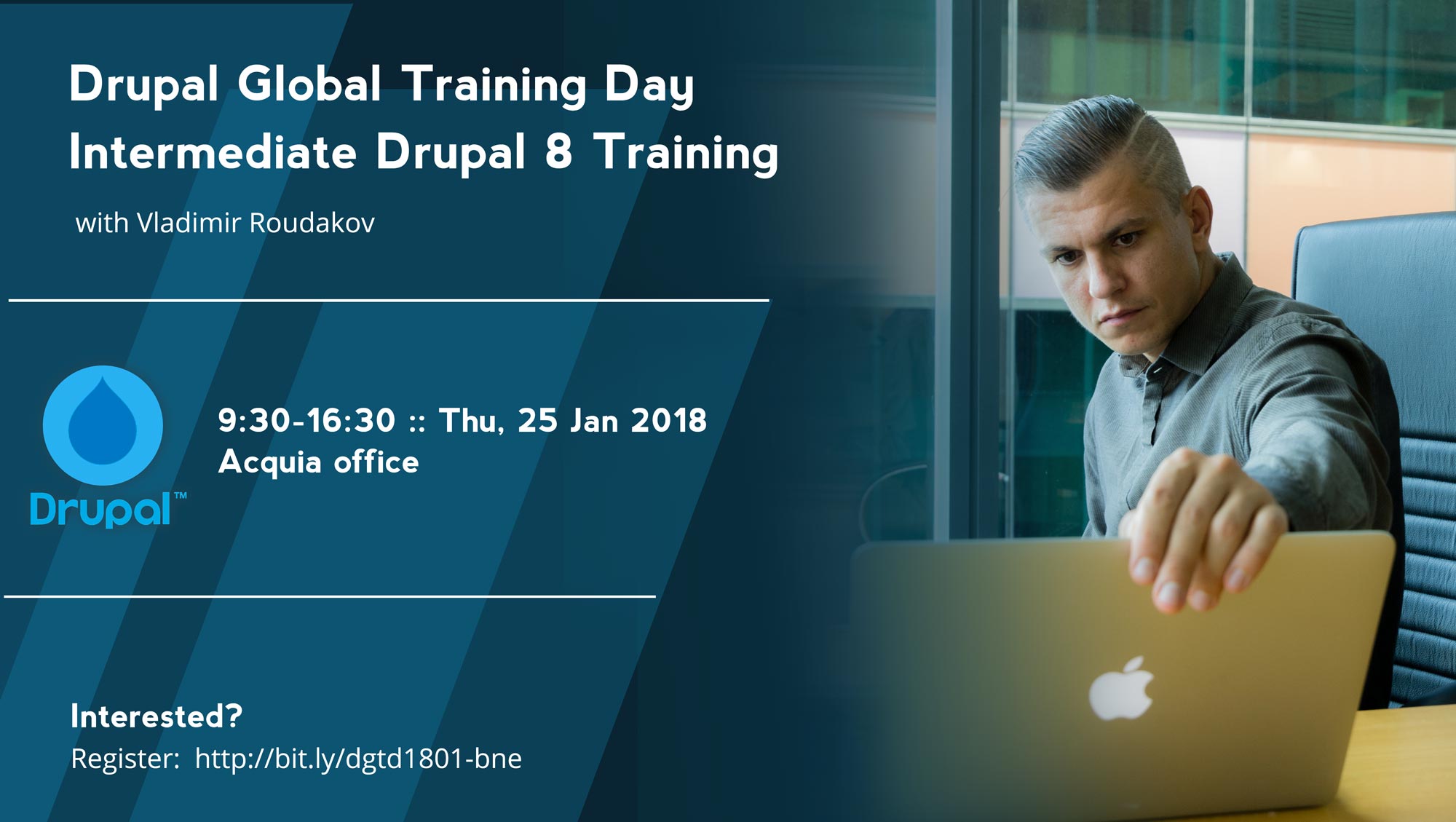 AGENDA:
Building intranet website with Drupal 8
- Extending existing data structures: content types, fields, paragraphs
- Improving visual data output using view modes, form view modes and display suite
- Extending user profiles & leveraging permissions
- Advanced data reporting using views
- Building forms using webform module
- Drupal 8 configuration: text formats, dates, WYSIWYG
NOT COVERED (should be covered before the training):
- Drupal 8 installation
- Drupal 8 theming
- Introduction to blocks
- Introduction to taxonomy
- Introduction to user management & user roles
SCHEDULE:
09:30-10:00 :: Introduction
10:00-12:30 :: Training. Part 1
12:30-13:30 :: Lunch (not provided)
13:30-16:00 :: Training. Part 2
16:00-16:30 :: Q&A and wrap up
REQUIREMENTS:
- Limited seats are available. Register here: http://bit.ly/dgtd1801-bne
- Bring your own laptop
- Basic Drupal knowledge (see "Not Covered" section)
PROVIDED:
- Wifi, powerpoints
- Refreshments
LET OTHERS KNOW YOU ARE ATTENDING:
- Share on social media. Use hashtag #drupalGTD
UNABLE TO ATTEND?
If you are unable to attend, please let us know as soon as possible by replying to this email.
SPONSORS:
Acquia :: venue sponsor :: https://www.acquia.com/
TEstudIO :: training sponsor :: https://tomato-elephant-studio.com/