Posted by
YesCT
on
April 12, 2013 at 3:05pm
In September 2012, after hearing the Community Cultivation Grants form the DA announce several times on the Drupal Easy podcast, I applied for one and got it.
The grant was for $240 towards starting an all-ages friendly local contribution focused meet-up in Oak Park Illinois USA (which is a suburb just outside of Chicago). We meet at the Oak Park Public Library.
The grant covered $72 for 6 months of meetup.com
http://www.meetup.com/vopdug/
Reservations for space to meet at the local library was $20/month. We met there 5 times.
On the 6th month we celebrated with an all day sprint, renting a room for the day at The Art of Natural Healing. The rest of the grant: $48 went to part of the $180 rental for the room.
Over the 6 months of meetups, we had a few experience contributors, but mostly new folks. Some are regulars now.
Oct: 9 people, 2 young
Nov: 9 people, 2 young
Dec: 5 people
Jan: 8 and 3 of those under 18. 2 experienced and a bunch of people newer. 2 first time vopduggers.
Feb: 5 people
March: 12 people. Quite an array of experience (first time contributors to Drupal 8 initiative lead) and ages (10-60ish). Even the newer people were helping the really new with contributing. Even the experienced (me) were getting mentored! An awesome showing! Write up: http://comm-press.de/en/blog/oak-park-illinois-usa-sprint-sunday-during-...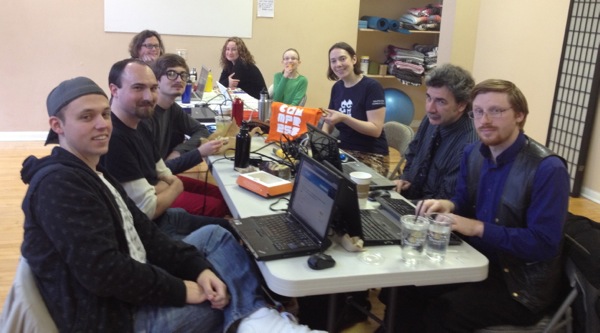 When first planning the March all day sprint, I wanted more publicity of the event to get some others from the Chicago suburbs and the city to attend. webchick suggested if it were a coordinated event, in more than just one city, that she would tweet about it. And thus: #SprintWeekend was born. http://groups.drupal.org/node/277768
Going forward.
Going forward we are continuing to meet monthly, but for 4 hour time blocks. We found the 2 hours (plus an optional extra hour for helping people set up dev env) was too short for participants to finish tasks. And I'll be asking regulars that attend the meetup to chip in to the ongoing meetup.com cost and the $20/month space rental. If an Oak Park office with wifi wants to donate meeting space, contact me. :)
Next meetup [updated April 15]: Sunday, May 12, 2013 13:00-17:00 at the Oak Park Main Library on Lake St. http://www.meetup.com/vopdug/events/108698122/
Follow @ctheys to get announcements and look for #vopdug
Thanks to Drupal Easy for repeating that the grants were available. Repetition helps.
Thanks to the DA for approving the grant.
Thanks to the Oak Park Library for the low cost room rental.