Posted by
scor
on
November 26, 2013 at 8:09pm
Start:
2013-12-07

09:00

-

17:00

America/New_York
The Get Involved with Core sprint is an opportunity for first-time contributors to the Drupal CMS to get involved by spending the day working on Drupal 8. Developers, themers, QA, documentation writers, all are welcome to attend. No prior experience needed. Mentors will be present during the event to help you get started. This sprint will include an optional workshop to help you set up tools like IRC, git, and a Drupal 8 development environment. Come meet and work with some of the Drupal 8 initiative leads while contributing to the fast growing Drupal platform. Experienced Drupalistas are also welcome to attend, either to work on issues, or mentor newcomers. This event is free.
Join us on Google Hangout: https://plus.google.com/hangouts/_/76cpi4r2jovs8iu7km2abrvbjo?authuser=0...
List of issues: http://bit.ly/1eXrf4m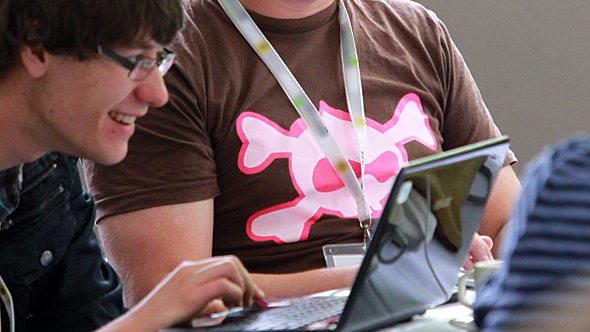 Time & Location
The sprint will run from 9am until 5pm and will take place in Cambridge at MIT in Building E51 - Tang Center (same building as where we have the meetups). The room is E51-335. Thanks to Ed Carlevale for hosting us at MIT. For parking, there is an unattended MIT lot called Hayward. This building is also conveniently located a couple of blocks from the Kendall Red line T stop.
Why come
If you're like most Drupal developers, you've been telling yourself for months that you should start contributing to Drupal core. This sprint is your chance to get started with in-person training and mentoring from friendly, experienced core contributors. It's also a great way to start becoming familiar with Drupal 8. If you've already started to work on core, come meet other contributors, hang out in person, and work on manageable tasks in the Drupal core queue. The goal is to help you help with core.
Who it's for
Anyone with Drupal site building experience can contribute to Drupal core. We'll have tasks suitable for programmers and non-programmers alike.
What to expect
We'll kick things off with a brief introduction, and then we'll help match people with issues that are right for their skill levels and areas of interest. Mentoringing is also provided to help new contributors set up a development environment and learn about the contribution process.
What to bring
An interest in Drupal contribution.
A laptop with wireless connectivity and a long power cord (multiplug extension cords encouraged).
What to prepare
If you plan to contribute documentation or try patches only, all you need a browser thanks to the simplytest.me service which allows you to install Drupal and apply patches online. If you plan to contribute code, we encourage you to prepare your laptop for Drupal 8 development in advance so you can save time on the day of the sprint. Follow the steps below if you have time before the sprint. We can help in the morning if you get stuck on any of these steps.
Create an account on drupal.org if you don't have one yet.
Download Dreditor, a browser plugin for Firefox and Chrome.
Install an IRC client like ChatZilla, a browser plugin, or Pidgin for Linux and Windows, or Adium for Macs. We will hang out on #drupal-contribute (read more on IRC and Drupal).
Try out a shell. Macs have terminal in Applications/Utilities. For Windows, cygwin is common.
A local web server. Some options:
A code-friendly text editor. (Sublime Text 2 is a free, cross-platform text editor.)
Install the latest version of Drush 7. One liner installer:
bash <(curl -s https://gist.github.com/scor/7843568/raw/install-drush7.sh)
References
Sprint mentors
Stéphane Corlosquet (scor), Kay VanValkenburgh (kay_v), Leslie Glynn (leslieg), Jesse Beach (jessebeach), and possibly Moshe Weitzman. We're looking for additional mentors if you are  familiar with setting up a development environment or with the core contribution process. People who can help pre-select issues are encouraged to reach out to the organizers in advance (always great to have a list of novice issues lined up the day before).
Sponsors
Group photo at the even
This event has ended. We had about 20 attendees participating in the event:


You can find more pictures on flickr.