Posted by
nickvidal
on
February 21, 2015 at 12:00am
Cross-posted from DrupalCon Latin America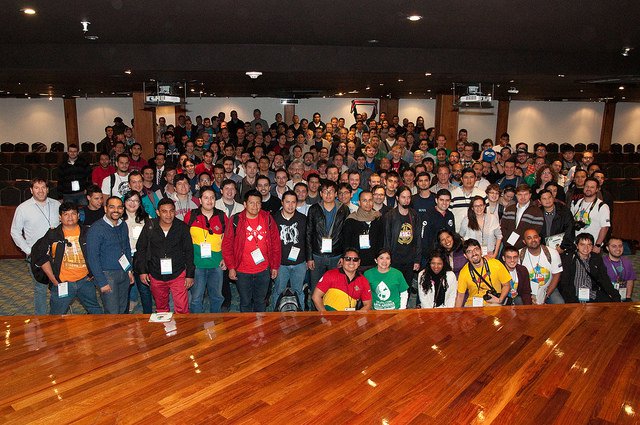 Photo Credits: Jeremy Thorson
English / Castellano
Latin America is a vast region and its 600 million inhabitants are a wonderful blend of multiple cultures. Seeking to bring DrupalCon to the most diverse public possible, the first DrupalCon in Latin America took place in Bogota, Colombia - close to the geographical center of the region.
Over 250 attendees came to the event from all corners of the world. From Latin America, there were representatives from Argentina, Bolivia, Brazil, Chile, Costa Rica, Ecuador, Mexico, Panama, Peru, Uruguay, and Colombia, of course. There were also many attendees from North America, Europe, and even Asia.
What made this event unique was that this was the first DrupalCon where sessions were translated to multiple languages: English, Spanish, and Portuguese. In fact, the opening session made by Holly Ross, the executive director of the Drupal Association, was brilliantly performed in Spanish, which clearly demonstrates how passionate she is about spreading Drupal globally.
The DrupalCon sessions covered a wide range of topics and were divided into 6 tracks: Coding & Development, Front-end, Site Building, Case Studies, DevOps, Business, and Core Conversations. The two keynotes were from Dries Buytaert and Larry Garfield.
Dries' keynote highlighted how aggregation and personalization will play an ever more important role on the Web. Drupal is well positioned in this regard. With Web services and Guzzle now in core, each instance of Drupal will be able to aggregate data from disparate systems to deliver a personalized experience to its users. Drupal.org itself is being reinvented to serve different personas based on factors like the level and type of skills, location, and language. What that means is that users from Colombia, for example, should soon receive information from Drupal.org that is relevant to them, such as content in Spanish and a list of events happening close by. This will help Drupal to better serve a more diverse audience.
Larry's keynote drew attention to the importance of Drupal "getting off the island" and working together with other open source communities. This shift has brought a multitude of new people and ideas to the Drupal project. Larry also emphasized how Free and Open Source Software is essential for sustaining an ecosystem of startups that can collaborate and innovate. This levels the playing field and allows small businesses in Latin America and elsewhere to provide a high quality service to their clients.
The takeaway from this DrupalCon is about how our code and community are evolving. We are truly embracing diversity in all fronts: our code base is more integrated with other open source projects and our community is growing more diverse. Having a DrupalCon in Latin America has been an important step towards creating a global multi-cultural community. This will help generate new opportunities for everyone and help the Drupal project to reach an outstanding level of innovation.
We look forward to DrupalCon in India and we invite everyone in the community to embrace diversity to help create a better world!
Castellano / English
DrupalCon Latino américa - Abrazando la Diversidad
América Latina es una región con proporciones épicas y sus 600 millones habitantes son una maravillosa mezcla de varias culturas. buscando traer el público más diverso posible, tuvo lugar el primer DrupalCon en Latino américa en Bogotá, Colombia - cerca del centro geográfico de la región.
Más de 250 asistentes acudieron a la cita de todos los rincones del mundo. De América Latina, había representantes de Argentina, Bolivia, Brasil, Chile, Costa Rica, Ecuador, México, Panamá, Perú, Uruguay y Colombia, por supuesto. También hubo muchos asistentes de América del Norte, Europa, e incluso Asia.
Lo que hizo a este evento único, fue que este era el primer DrupalCon donde las conferencias fueron traducidas a varios idiomas: Inglés, Español y portugués. De hecho, la sesión de apertura hecha por Holly Ross, la directora ejecutiva de la Asociación Drupal, fue brillantemente realizada en español, lo que demuestra claramente su pasión por difundir Drupal a nivel mundial.
Las conferencias de DrupalCon abarcaron una amplia gama de temas y se dividieron en 6 tracks: Codificación y Desarrollo, Front-end, Contrucción de sitios, Casos de estudio, DevOps, Negocios y Conversaciones del Core. Las dos conferencias magistrales estuvieron a cargo de Dries Buytaert y Larry Garfield.
El Keynote de Dries destacó cómo la voluntad de agregación y personalización desempeñan un papel cada vez más importante en la Web. Drupal está muy bien posicionada en este aspecto. Con los servicios Web y Guzzle ahora en el núcleo, cada instancia de Drupal será capaz de agregar los datos de sistemas dispares para ofrecer una experiencia personalizada a sus usuarios. Drupal.org se está reinventando para servir a diferentes personas basándose en factores como el nivel y el tipo de habilidades, ubicación, y idioma. Lo que esto significa es que los usuarios de Colombia, por ejemplo, pronto deben recibir información de Drupal.org que sea relevante para ellos, como el contenido en español y una lista de los acontecimientos que suceden cerca de su zona. Esto ayudará a Drupal a servir mejor a un público más diverso.
El Keynote de Larry llamó la atención sobre la importancia de que Drupal "salga de la isla" y trabaje en conjunto con otras comunidades de código abierto. Este cambio ha traído una multitud de gente nueva e ideas para el proyecto Drupal. Larry también hizo hincapié en cómo el Software de código abierto y libre es esencial para el mantenimiento de un ecosistema de nuevas empresas que puedan colaborar e innovar. Esto nivela el campo de juego y permite que las pequeñas empresas en América Latina y en otras partes puedan proporcionar un servicio de alta calidad a sus clientes.
Lo hay que llevarse de este DrupalCon es el cómo nuestro código y comunidad están evolucionando. Estamos verdaderamente abrazando la diversidad en todos los frentes: nuestro código base está más integrado con otros proyectos de código abierto y nuestra comunidad está siendo más diversa. Tener un DrupalCon en Latinoamérica ha sido un paso importante hacia la creación de una comunidad global y multicultural. Esto ayudará a generar nuevas oportunidades para todos y ayudar al proyecto Drupal a alcanzar un excelente nivel de innovación.
Esperamos DrupalCon en la India e invitamos a todos los miembros de la comunidad de abrazar la diversidad para ayudar a crear ¡un mundo mejor!