Start:
2009-08-15 08:00
-
2009-08-16 17:00 America/Los_Angeles
Event type:
Drupalcamp or Regional Summit
chx (Károly Négyesi) is coming to Los Angeles and he's asking the L.A. developers to bring it for what will be one of the final pre-d7 code freeze coding and testing sprints. There will be chocolate, and at some point beer.
The hours are (tentatively) 8:00 AM on Saturday until whenever we want to break and from 8:00 AM on Sunday until 5:00 PM when chx needs to leave for another engagement.
This will be a working code sprint. If you have experience coding modules and/or writing simpletests, that would be very helpful. If not, someone will assist you in getting up to speed. There will be tasks for anyone who wants to work.
Please bring your laptop, a power adapter (or a 48-hour battery), an extension cord or power strip (if you can) and a lot of enthusiasm.
Causecast has generously donated space in their new Santa Monica offices.
Causecast
1558 10th St. - Unit D, Santa Monica, CA 90401
Entrance is on Colorado Ave.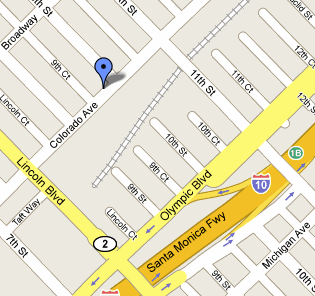 There is metered parking available on Colorado Ave. These meters are enforced on Saturdays (but not Sunday). I will try to have some quarters availabe on Saturday, but please be prepared to feed the meters. You might be able to park across Colorado at Mahalo if they don't have anything happening this weekend. We do not have official approval to use their lot, so park at your own risk. Causecast has eight parking spaces behind the building, but these will be unavailable most of Saturday due to a commercial being filmed in the building. More parking info can be found below.
Cherry Hill and Causecast will provide refreshments. If you have special dietary needs, there is a supermarket less than two blocks away.