Posted by
heather
on
August 31, 2011 at 11:19am
Last updated by
christefano
on Thu, 2012-11-15 07:09
Open Curriculum: Definitions – Scenarios – Roadmap – Skill sets – Open certification – References - Roles
Join the upcoming IRC meeting! Follow discussions here on g.d.o, on IRC at #drupal-skillmap, or on Twitter with the tag #drupalskillmap!
---
Way-finding through your Drupal learning experience. 
Searching for useful tutorials, you can get quickly deluged with an undifferentiated and long search result across Google's (or another engine's) index.  
A wide range of Drupal learning materials exist not only on Drupal.org, but on blog posts, screencasts, podcasts, DrupalCon sessions, commercial training and books - and yet it can be rather difficult to navigate through. New Drupalists are wondering "Where to start?" And those with some experience are wondering "Where should I go next?"
Documentation is an essential resource when you have a specific question, and you can get it answered. How can I do X? Training materials on the other hand is a sequence where by the end of it, you can say you will have acquired a certain level of understanding of a particular area. Training materials cover specific activities which either introduce or review procedures and topics. 
Documentation is the entire map and training or mentoring is the walking tour.
In our presentation about certification, Dominik Lukes put forth a proposal for an 'Open Source Curriculum'. This would be publicly available and patchable, version-able and verified against community participants. Please watch that presentation for more details: http://tinyurl.com/drupalcert1
Learners would be able to see the scope of skills and abilities needed in the Drupal community, and determine ways they could expand their own areas of expertise.
Clarification of terms
For our purposes, we determined (at code sprint London 2011) that we don't need the open source curriculum to be granular. We need general subject areas, and not specific learning objectives. Watch Dominik Lukes define the terms in the session at DrupalCon London. http://tinyurl.com/drupalcert1 This is a summary:
These are checks and balances.
Curriculum, to guide the learners, mentors and trainers through a common understanding of Drupal skills.

Aggregated system of collecting appropriate learning materials, mentoring or training opportunities.

Syllabus, and learning objectives (and the materials derived out of that) which are validated against the curriculum. 

The actual materials and resources and learning opportunities

Assessment, against the learning objectives, could be done in a variety of settings.

Federated system of accrediation, this is illustrated in the Mozilla open badge API. Whereby participants could share their achievement.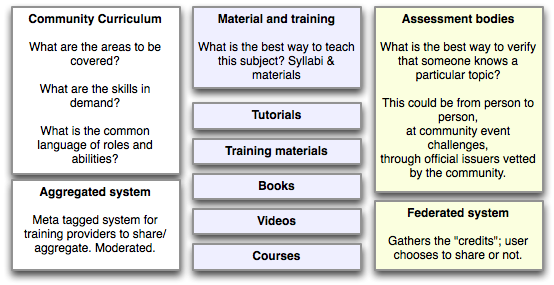 Definitions of terms
There is some confusion about what "curriculum" can entail. For our purposes, curriculum is a guideline, and is not the actual learning materials or courses.
The open source Drupal curriculum wouldn't need to define the specific learning activities, and would not include the syllabus. A syllabus could be developed by any provider and would include assessable and granular learning objectives. This would then be checked against the curriculum. 
Say for example, you were mentoring a local study group on site auditing. A curriculum could give you a broad outline of the per-requisites, expected topics covered in the area of "site auditing". Your syllabus would establish the delivery method, sequence your activities, and guide the learners through the rigors of conducting performance, security, best practice and other checks. At the end, you could even self-assess by reviewing the curriculum, and be able to give yourself the pat on the back that you are skilled in Site Auditing. Or you could prepare to take a special Site Auditing performance-based exam.
The instructor (teacher/trainer) therefore has the creative space to generate unique, engaging, suitable learning materials, not dictated by a central system. If you've ever tried to teach with someone else's materials or make reusble learning materials, you can appreciate the difficulty. And yet having a constraints of a curriculum can be very helpful.
And finally, assessment can check the behaviors or comprehension level of the learner against the syllabus to validate their experience.  On the one hand you have formative assessment. Formative assessment is essentially feedback which can help direct the learner to areas for improvement. Summative assessment is an evaluation of a learner's skills or knowledge at a point in time; for example to declare the level of learning someone has achieved.