Start:
2012-05-01

18:30

-

21:30

America/Los_Angeles
The High Performance Drupal meetup is meeting again on the 1st Tuesday of the month. Please join us at Droplabs, a Drupal event and coworking space in Downtown Los Angeles, on May 1, 2012.
Our meetups follow a basic format and start off with Drupal news and announcements, local job announcements, breakout sessions, raffle prizes and full-length presentations.
As always, we'll also have community Q&A, during which time anyone in attendance can ask questions, divine answers from the crowd and give brief, 5-10 minute-long presentations known as lightning talks. We'll finish off the night with more networking and a Drupal After Dark at 9:30pm.
The projector and raffle prizes for this event are being provided by Exaltation of Larks, a Drupal strategy, consulting, development and training company with a team of Drupal experts in Los Angeles.
About High Performance Drupal
What is the High Performance Drupal meetup about? The "high performance" part of the name is a catch-all to describe Drupal scalability, performance and benchmarking but we also discuss hosting, infrastructure, deployment, monitoring and highly repeatable processes. Also, this meetup has been held at coffeeshops in the past and the addition of caffeine makes our meetings feel as if they go faster and faster as the night goes on.
This is an meetup that focuses exclusively on advanced topics and there will not be a Users Helping Users portion to the evening.
For any changes to our agenda, stay tuned to this meetup announcement or click the Sign up button below (or both!) to be notified when the agenda has been updated.
What to bring
Just bring your laptop, your business cards or whatever else you need. You're also welcome to bring some light food, sodas or beers to share with others at the meetup.
Please note that our guest wireless network is limited to 1Mb per client, so bring your MiFi router or a phone you can tether with if for some reason you need a lot of bandwidth. Access to our high-speed network is included with a Droplabs membership.
Agenda
   6:30pm
   Projector and tables / chairs setup
   7:30pm
   Introductions and job announcements
   News and upcoming events (Drupal Coworking Friday, Drupal Design Camp LA 2012, LA Drupal Business Summit, etc.)
   8:00pm
   Community questions and answers
   Breakout sessions
   8:30pm
   Presentation: Using HTTPRL for Parallelization: PHP Multitasking Without Forking with stream_select()
   Presentation: Introducing Doh, a Drupal-Based Meta-Framework
   Presentation: Introducing Virtualmin: Manage Your Servers Without Excruciating Pain!
   Raffle prizes!
   9:30pm
   Wrap-up, Clean-up and Close-up
   Drupal After Dark and networking session
Join us on Twitter, Google+ and IRC!
During the meetup, several of us will be in the regional #drupal-la channel on IRC and the LA Drupal hangout on Google+ and all are welcome to join us. The event organizers will also be monitoring Twitter for feedback and questions that mention @DowntownDrupal, @ladrupal or use the #ladrupal hashtag.
Breakout sessions
We have several spaces available for breakout sessions. This is an opportunity for a open, multi-track format where we break into groups and discuss a variety of topics, such as high performance hardware (SSDs, SSL accelerators, etc.), monitoring and alerts, hosting and infrastructure, and so on.
Each breakout session is led by a volunteer who picks the topic, picks the space and can optionally report back to the larger group in the form of an announcement or lightning talk.
Presentations and Lightning Talks
The evening will have a mixture of full-length presentations and brief lightning talks, which are brief, 5-10 minute presentations, demos or discussions that anyone can give. It can be about a new website you're working on, a Drupal module you've written or come across recently that you'd like to talk about, or just a burning question you'd like to ask of the crowd.
Would you like to present or see a presentation on a related topic? Leave a comment below!
Using HTTPRL for Parallelization: PHP Multitasking Without Forking With stream_select(), by Mike Carper
Did you know that PHP comes with a very powerful function called stream_select()? In short it's a wrapper for the select() system call. This allows for synchronous I/O multiplexing, or in sudo-code, a way to read multiple input/output streams without blocking; only selecting streams that are ready for I/O. In English this means that you can do parallel work from a single PHP thread without forking (forking a process is slow and complex in PHP).
In this talk, Mike Carper (@mcarper and mikeytown2 on Drupal.org) will be going over some code called the HTTP Parallel Request & Threading Library — or HTTPRL in short. Using PHP's stream_select() HTTPRL can send http requests out in parallel. These requests can be made in a blocking or non-blocking way. Blocking will wait for the http response; Non-Blocking will close the connection not waiting for the response back. Non-Blocking requests are what make this better in comparison to cURL, better control over redirects is the other reason.
This talk was recently given as PHP Multitasking Without Forking at LinuxFest Northwest 2012 and the topic is further described by cotto in the High Performance group at http://groups.drupal.org/node/226054
Introducing Doh, a Drupal-Based Meta-Framework, by Chris Paul
This presentation, by Chris Paul (@cpjeeves) of Exaltation of Larks (@LarksLA), is to introduce a new kind of Dynamic Object Handler that has all kinds of potential but little direction.
Proposed features like dynamic module loading, core function overloading, and database-less bootstrapping are suddenly realized by this interesting new way of approaching jQuery-like PHP programming.
Through the use of "magic" PHP methods, all kinds of powerful new techniques become possible.
Introducing Virtualmin: Manage Your Servers Without Excruciating Pain! by Christefano Reyes
During this presentation, Christefano Reyes (@christefano) of Exaltation of Larks (@LarksLA) will give a recap of last week's free, 5-hour workshop by the same name on the free, open-source Webmin control panel and its powerful Virtualmin plug-in. With Virtualmin, you can take your Drupal sites to the next level and add as many features as you want with Virtualmin, including unlimited domains, subdomains, mail accounts, Subversion and Git repositories, mailing lists, and more with a point-and-click web interface.
Webmin and Virtualmin are similar to cPanel and WHM, respectively, and can manage dozens or even hundreds of domains. They are the perfect tools for creating test and development sites, hosting client websites or even managing a full-blown online infrastructure for running a business.
Raffle prizes! Collect them all! Must be present to win!
Our raffle prizes often include discount codes, magazines, DVDs and books. We are always grateful to our sponsors for their continued support. If you have any items you'd like to donate to the raffle, please contact any of the organizers at the meetup.
Drupal After Dark
Even if you can't make it to the meetup, you're welcome to join us for a Drupal After Dark. After we wrap up the meeting and clean up, a group of us will go to a nearby restaurant or pub. One time we had beers and a bonfire and were serenaded by Skrillex. We've also gone to a variety of other locations, including Barbara's at The Brewery (at 620 Moulton Ave., just a 5 minute walk away) and Carnitas Michoacan (on 1901 N. Broadway, just a 5 minute drive away).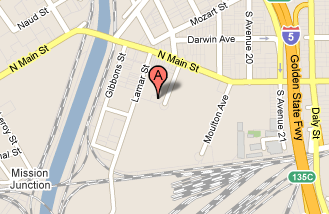 Location and directions
   Droplabs
   651 Clover St.
   Los Angeles, CA 90031
Droplabs is in the Mission Junction neighborhood of Los Angeles at Big Art Labs, just 1 mile down Main St. from Philippes (the first-ever venue for LA Drupal meetups!) and Union Station. We're one block west of The Brewery, the largest live-and-work artists' colony in the world.
Free parking in our large parking lot is first-come, first-served. After parking in the lot, follow the yellow signs that point to Droplabs. (If our lot is full, you can park for free on Clover St.)
Droplabs is a brief walk from the Main St. / Lamar St. stop on the the Metro Local 76 bus line. To carpool or catch the Droplabs shuttle from Union Station, post below in the comments.
About Droplabs

Droplabs is a collaborative Drupal event and coworking space in Downtown Los Angeles. Created in 2011 by LA Drupal members for the LA Drupal community, we are focused on serving the greater LA Drupal community, enriching the Drupal skills and lives of its members, and bringing joy to our Drupal practice. Our founders represent several local area businesses that have deep roots in the Drupal and open source communities.
We've been open to the public since May, 2011, and the use of our equipment and facilities, including conference room, tables and chairs, is free until our official launch. See http://groups.drupal.org/node/145934 for more details about our open beta period and http://droplabs.net/prices for our list of free amenities and member perks, including our high-speed WiFi, an espresso machine, printer and scanner services, and more.
Droplabs is the host of the monthly Downtown LA Drupal meetups, LA Drupal's weekly Pro Drupal 7 Development book study group and special events including the Varnish 3 Release Party, a Leave GoDaddy Day workshop and LA Drupal's job fairs. To learn more about Droplabs, follow @Droplabs on Twitter, sign up at Meetup.com/Droplabs or like DroplabsLA on Facebook!
About Downtown Los Angeles Drupal
Downtown Los Angeles is one of the most active areas for Drupal in Los Angeles and LA County. We've been meeting regularly on the 3rd Tuesday of every month since early 2010 and now schedule up to 4 regular meetups a month and occasional trainings and social gatherings. Downtown LA Drupal members also produce special events, code sprints, and the annual Drupal Design Camp LA conference
Attending Drupal events in and around Downtown Los Angeles is one of the best ways to meet and talk with other Drupaleros and we encourage you to attend as many meetings and special events as you'd like. Whether it's to find solutions to problems you've been having, sharing something you've learned or just meeting interesting like-minded people, the Downtown LA Drupal events are an essential resource for Drupal professionals and hobbyists alike.
If you aren't already a member of Downtown Los Angeles Drupal, it's easy to join our community. Our calendar of events is on our "Events" tab on our home page at http://groups.drupal.org/node/219129