Posted by
Noyz
on
March 21, 2012 at 4:27pm
Like it or not, people make instant decisions. Unfortunately, the instant decision Drupal users are making is 'this looks hard.' As such, the remaining experiences people are having, are under the premises that they are in a hard tool. It's urgent that we change this.
To mitigate this, I want to propose a scenario which is partially based on observation of countless usability studies being performed on Drupal Gardens - which in essence is Drupal.
Users come into Drupal, they see and/or interact with:
the first page
the toolbar; and start experimenting. They interact first with words that have a definite meaning and they can relate to, which happens to be A) content B) appearance
Content / Adding content
Managing (finding) created content
Drupal at large by pogo-sticking in and out of various toolbar options - generally just trying to find meaning and/or reinforce their ideas of what they think Drupal is.
Of these:
#1 is a larger conversation best served for it's own thread
#2 is covered in this blog post: https://www.acquia.com/blog/journey-build-better-drupal-toolbar Looking back on this post, I don't think we did a good job at documenting why we redesigned the toolbar, so I'll quickly do so here. The reasons were:

People were intimidated by all of the options (dashboard, content, structure, people, configure, reports, etc).
People can't get around their site fast enough to decide if the tool is working for them. That is, outside of shortcuts, adding content follows this path Content > Add Content > Choose content type > Add. 3 preceding pages just to add content.
Choices lacked help, that is, they'd have to click structure to see the options in order to fully understand what "structure' meant.
Booth newbies and developers are confused by Content vs Structure. That is, is a page structure, or content? Taxonomy? Block? New modules regularly either failed, or had to ask prior where to place their modules link.

#3 is going in a good direction here, so I also won't cover it
#5 can largely be solved by making each area a user drops into more succinct, by simply changing action links to Drop Buttons, which is proposed here: http://drupal.org/node/1480854
Leaving items # 4 to be discussed here.
The problem: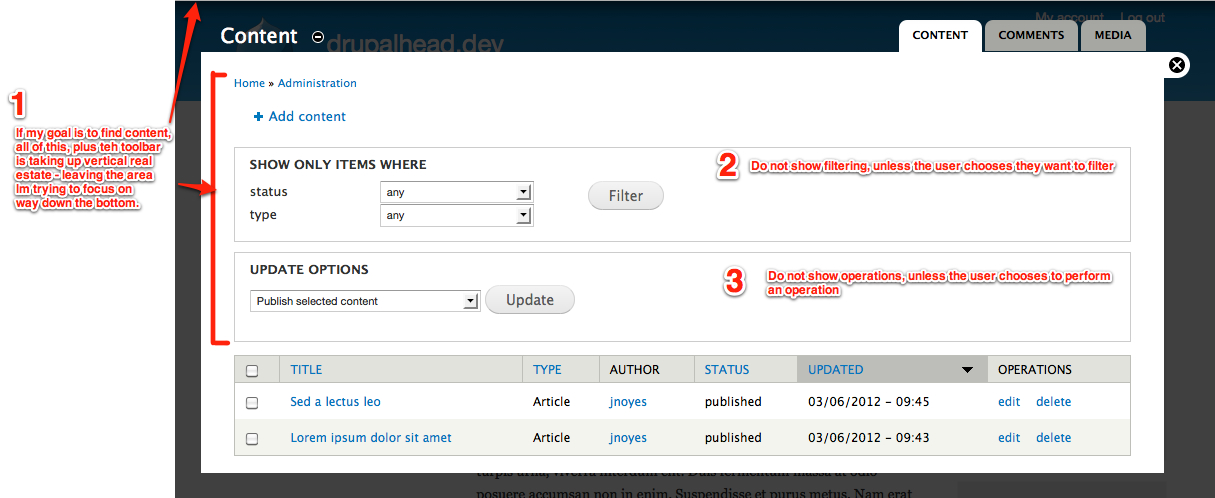 The solution: