Start:
2014-01-25

11:00

-

16:00

America/Los_Angeles
We're scheduling an extra special Drupal event this Saturday, January 25, 2014, and you're invited!
This is a mega event with four separate activities, including code sprints and expert Drupal mentoring. Join us for any or all of the following, including the Drupal Sprint Weekend: Los Angeles; having a GLADCamp.org website sprint; open lab hours for attendees of the module development boot camp; and a FREE video learning and mentoring workshop using Build a Module.com videos.
Agenda
For any changes to our agenda for the event, stay tuned to this meetup announcement or click the "Sign up" button at https://groups.drupal.org/node/399498#signup (or both!) to be notified when the agenda has been updated.
Drupal Sprint Weekend
The annual Global Drupal Sprint Weekend is upon us and anyone interested in learning more about Drupal core and how the Drupal software project is managed and developed will be guided and mentored in the Drupal Way.
We'll help you select tickets in the core issue queue at https://drupal.org/project/issues/drupal to work on so that together as a group we can move Drupal 8 closer to a release date. See https://groups.drupal.org/node/332998 for more details.
GLADCamp.org Code Sprint
Thanks to an amazing team and help from our design and development partners, the GLADCamp.org website is now up! Before we open user registrations and session submissions, the website needs help from volunteers in our community.
We'll be updating the GLADCamp.org website, including descriptions of the non-profit summit and venue and hotel information, and cataloging any remaining bugs in the issue queue at https://drupal.org/project/issues/gladcamp  
Open Lab Hours for the Module Development Boot Camp
This weekend is the last best chance for attendees of the Module Development Boot Camp to participate in open lab hours at Droplabs. The boot camp instructors will be on hand to help boot camp attendees finish their class projects and get them published to Drupal.org.
FREE video learning and mentoring with Build a Module.com videos
That's right, we're also doing a mentored Drupal training! If you're interested in learning more about Drupal, site building, theming, module development, change management, or anything else, come with your laptop or tablet and a pair of headphones. The staff at Droplabs will set you up with a day pass to Build a Module.com and help create a video playlist for you to gently climb the Drupal learning curve at your own pace.
Drupal After Dark
We might go to a nearby pub or restaurant to wind down after the event. Stay tuned to this event announcement for details.
In the past, we've rearranged the room and pulled out the couches for a movie night, and we've also been out by the bonfire and been serenaded by Skrillex while he was rehearsing next door for his Mothership Tour.
Location and Directions
This is the second time the Global Drupal Sprint Weekend is being hosted by Droplabs (@Droplabs), a Drupal-friendly coworking space, classroom and computer lab in Downtown Los Angeles.
We're the leading low-cost coworking space in the Greater Los Angeles Area and have programs, services and workspaces that are uniquely designed for entrepreneurs, freelancers and remote workers.
   Droplabs
   651 Clover St.
   Los Angeles, CA 90031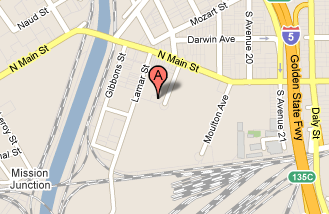 We're quickly gaining a reputation for being the only coworking space around with a with a low-cost business model: come work here and use our tables, chairs, WiFi and conference room with a low, daily or monthly membership fee and only pay more for the extras, such as 24/7 access, equipment rental and a locker for your belongings.
Droplabs is in the Mission Junction neighborhood of Los Angeles at Big Art Labs, just 1 mile down Main St. from Philippes (the first-ever venue for Drupal meetups in Southern California!) and Union Station. We're one block west of The Brewery, the largest live-and-work artists' colony in the world.
Free parking in our large parking lot is first-come, first-served. After parking in the lot, follow the yellow signs that point to Droplabs. (If our lot is full, you can park for free on Clover St.)
Droplabs is a brief walk from the Main St. / Lamar St. stop on the the Metro Local 76 bus line. This is also the Lincoln Heights / Chinatown DASH stop.
To carpool or catch the Droplabs shuttle from Union Station, post below in the comments.
What to Bring
Just bring your laptop, your business cards or whatever else you need. You are encouraged to bring some light food and drinks to share with others at the event.
Please note that our guest wireless network is limited to 1Mb per client, so bring your MiFi router or a phone you can tether with if for some reason you need a lot of bandwidth. Access to our high-speed network is included with a Droplabs membership.
About Greater Los Angeles Drupal
With several weekly and monthly events, the Greater Los Angeles Area is one the most active areas for Drupal in the world.
Formerly named Downtown Los Angeles Drupal, we've been meeting regularly in and around Downtown Los Angeles, California, since early 2010, and now organize a large number of events in the area. Our signature events include the Drupal Job Fairs and the Downtown Drupal, Frontend Drupal and High Performance Drupal meetups.
Our members and organizers have produced hundreds of Drupal events, including job fairs, meetups and workshops, conferences, paid trainings, coworking days, study group sessions, movie outings, FREE tutoring sessions from Drupal professionals, and website barnraisings to benefit non-profits and members of our community.
Attending Drupal events in the Greater Los Angeles Area is one of the best ways to meet and talk with other Drupaleros and we encourage you to attend as many meetings and special events as you'd like. Whether it's to find solutions to problems you've been having, sharing something you've learned or just meeting interesting like-minded people, the Greater Los Angeles Drupal events are an essential resource for Drupal professionals and hobbyists alike.
If you aren't already a member of Greater Los Angeles Drupal, it's easy to join our community. Our community calendar is on our "Events" tab on our home page at http://groups.drupal.org/node/219129  
We proudly participate in the California Drupal Travelers Program, which aims to connect businesses and community members who are visiting the area with our local community and events. Inquire within by contacting any of the Downtown Los Angeles Drupal organizers, or by joining the global Drupal Hospitality Network.