One of the first newspaper-based sites based on Drupal, savannahnow.com has relaunched on Drupal 7 with a responsive design and tight integration with newsroom workflow and subscriber management systems.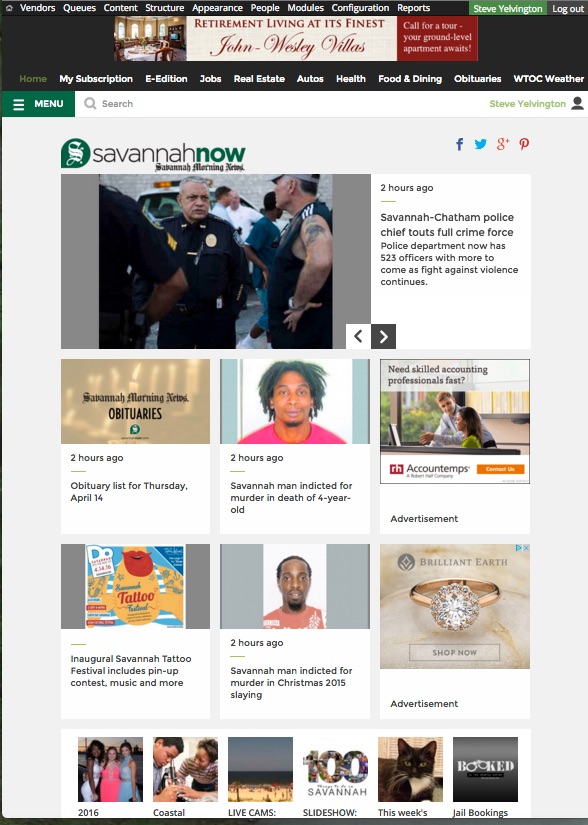 This project features an unusually high degree of integration with third-party systems:
Mediaspectrum Contentwatch. The newsroom's internal workflow system, which supports multiple print products as well as multiple Web products, is tightly coupled with Drupal through an API-level integration that exposes Drupal functionality directly in the Contentwatch interface. For example, CW "pulls" taxonomy terms from several vocabularies and offers them to writers and editors for tagging and section identity. An upgrade in coming weeks will directly expose nodequeue management, including drag-and-drop sorting. The system is designed to encourage Web-first behaviors throughout the newsroom, while continuing to support the complex needs of high-volume print integration, including print advertising (through the companion Adwatch system).
Newscycle Circulation and Syncronex pay meter. This integrates all paid content customers into a single master database, allowing for multiple subscription plans including bundling. "Protected" content (news stories) can be opted in or out of the meter with two clicks.
Gigya identity management and commenting. This supports single-signon user access to Drupal, the Syncronex pay meter, and Newscycle account management including vacation stops, payment, etc. Gigya login supports pulling information from users' social media accounts to facilitate account creation.
The usual Doubleclick, Google Analytics, Chartbeat, etc. integration is accomplished through Tealium, a tag-management system.
The design, responsive theme, and initial platform buildout were by Anthill.net with further development and hosting by NIIT Media Technologies and internal Morris Publishing Group resources.
The Savannah Morning News operates a portfolio of products including several sites previously migrated to D7, such as BiS and Do Savannah. The Shared Blocks module enables sets of teasers to be created and managed on the target site, then syndicated to savannahnow.com as prebuilt native page components without the use of iframes. In addition, a "promo" content type can be used for one-off promotion of any URL. The Rabbit Hole module ensures that only admins can "see" the underlying promo nodes; everyone else gets bounced to the target.
One of the things we were concerned about with this migration was scalability and performance. The new site is built with nginx and Varnish fronting an array of application servers running Drupal and Memcache, talking to an array of database servers. Through a combination of back-end, theming and scripting improvements, end-user page delivery and rendering is running much faster on all platforms. The user experience for mobile users, who now constitute more than 50 percent of sessions, is vastly improved.
Anthill developed the site as a Drupal installation profile, which will be updated and maintained as the Morris Publishing Group rolls out this new site standard to its other newspaper operations across the United States.