Posted by
John Cook
on
November 6, 2017 at 1:58pm
Last updated by
ashishdalvi
on Tue, 2018-01-30 07:20
Small local sprints everywhere (well, not everywhere, but anywhere) will be held during from (Friday) January 26 to (Sunday) 28 2018. Listed alphabetically by continent, country, locality (state, province, city; where applicable).
---
Sprint Locations
Worldwide/Virtual
?
Africa
?
Asia
Japan

Tokyo, January 27 Details
Australia
?
Europe
Belgium

?

Moldova

Chisinau - 27th and 28th January 2018 Details

Bulgaria

Sofia, InitLab - 27th and 28th of January 2018 - Details

Italy

?

Russia

Novosibirsk, January 27 - Details

Switzerland

?

Ukraine

Kyiv FB Event and Details
Lutsk [FB Event], [G.D.O Details], [Meta Issue]
Kharkiv [FB Event], [G.D.O Details]

United Kingdom

Leeds - January 27-28, 2018 - Details
London, Shoreditch - January 27, 2018 - Details

Netherland

Haarlem, January 28 - Details

Poland

?

Serbia

Novi Sad, January 27th - Details

Spain

Conil - Jan 27th & 28th - More info coming soon!
Málaga - Jan 27th - Details

Slovak Republic

Bratislava - 27&28 January - Details

Slovenia

?
Latin America
Argentina

?

Perú

?
North America
Canada

Toronto, Canada - Jan 27, 2018 - Details
Vancouver, BC - Fri, Jan 26, 2018 5pm - 9pm and Sat, Jan 27, 2018 – Details
---
Example code for adding a sprint
<h3>[ Continent ]</h3>
<ol>
    <h4>[ Country ]</h4>
    <ol>
        <li>[ City ], [ Locality ] - [ dates ] - <a href="[ URL to Sprint on G.D.O ]">Details</a>[ Links to other resources ]</li>
    </ol>
</ol>
---
To contribute
This is a wiki page. Please edit.
---
To participate
add an "event" of type "sprint" on groups.drupal.org in a group for your area, to put your sprint on drupical.com and get exposure to people in your area
use "Drupal Global Sprint Weekend 2018" in the description of your sprint meetup, sprint camp session, mini-sprint, wind-sprint, or all-day sprint, like: "Drupal All-day Sprint in Anywhere Town, IL, USA is part of Drupal Global Sprint Weekend 2018."
add a link to your sprint on this page. The link can be to a website, meetup, event on groups.drupal.org, blog post or whatever is appropriate for your event.
link back to this listing of local sprints
use the #SprintWeekend hash tag on twitter
use the tag "SprintWeekend2018" on d.o issues (no # in this tag name!)
Suggested announcement
A blurb to add to your session/event description (edit to fit your event):
Everyone is welcome; if you have built a site in Drupal, you can contribute. We will split into groups and work on Drupal core issues. Bring your laptop. For new folks: you can get a head start also by making an account on Drupal.org, getting some contribution tools, and developers can install git before coming and git clone Drupal 8 core.
Teaser artwork
Feel free to use this contribution for your own adjustments: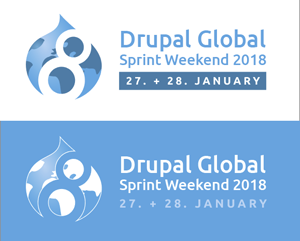 Requires free font family Ubuntu, cf. PDF comment for further info.
Download PDF.
Resources to help plan your sprint
Resources for participating in a sprint
Resources for contributed module developers: upgrading your modules to Drupal 8. Look at git logs and 8.x issues from modules that have already started a 8.x branch. As you port, first commit a 7.x version as initial 8.x, and make frequent public commits (and issues in your issue queue!). In those commit messages: 1) say what you did, *and* 2) add "per ...." and site the change record, or link to an example in another module that led you to think that was what needed to be done. The "per" is really useful. See also the Pants example module.
Use irc, and post a comment when about to work on an issue.
Issues and Topics to Sprint On
Initiative leads and module maintainers should create and link to planning pages.
Past global sprints
The curious might want to see the locations from 2017, 2016, 2015, 2014 and 2013.