Open Curriculum: Definitions – Scenarios – Roadmap – Skill sets – Open certification – References - Roles
Join the upcoming IRC meeting! Follow discussions here on g.d.o, on IRC at #drupal-skillmap, or on Twitter with the tag #drupalskillmap!
---
This is summary of the models of certification presented at DrupalCon London by Heather and Dominik. I've drawn them out here in some more detail to explain the relationship between the constituent parts. Please view that presentation http://tinyurl.com/drupalcert1
Models of certification and alternatives
Below, we look at a simplified model of traditional systems of certification.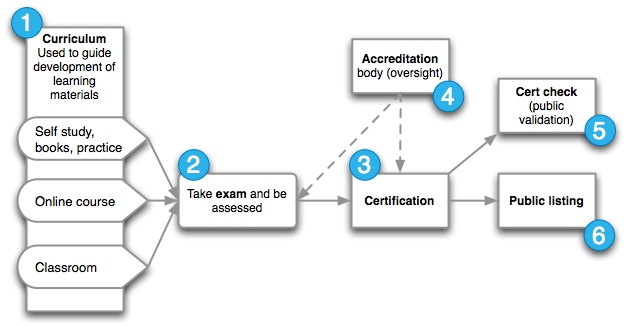 This roughly describes the models of the well known commercial certifications such as Cisco, Microsoft or Adobe; and is also the same followed by large open source projects such as Zend certification, Red Hat, Canonical, LPI, and so on. 
We can see the learning materials for courses and even self study can be validated against a central curriculum. A curriculum defines what should be covered, and yet it doesn't restrict the teachers/trainers from expressing their own creativity in making materials and classroom delivery. 
The learner next takes some kind of assessment. These may be paper based or performance based exams. We can note here that other forms of assessment are valid. 
This then leads to certification, held by the learner. 
Ideally, there is also some accreditation body which oversees the quality of the exams, and verifies the credibility of the certifying body. 
Then, it is becoming common practice that there be some kind of online validator to check the credentials of the learner so an employer can then confirm just who is certified. 
Finally, there is often some kind of way to see a listing of those who have been through certification. 
Together, these components satisfy the needs of the community: by ensuring the quality of the materials and delivery through a valued curriculum and accreditation oversight. They satisfy the needs of the learner by providing a summative assessment of "where I'm at now", with a verified public listing and validated certification check. These components also satisfy the needs of a client in verifying the skills of staff or vendors, as well as providing a vouched-for listing of individuals. 
Finding appropriate models
How can we set up a certification system for the Drupal community which is flexible enough to respond to the moving drop, be respectful of the open source process, and still provide the rigor and validity of a commercial system... while still keeping it affordable for participants and appropriate to their level?
In some cases- all of the Curriculum, the syllabi, the course materials and delivery is done by one group or organization. These are monolithic and costly undertakings that take literally years to set up. The most rigorous of those assessments, performance-based evaluation, is also the most costly and time consuming to administer and take, yet it is only required for the most complex of tasks.
Within those systems there exist a variety of levels of achievement. This accommodates those who only need to know a particular system on a surface level and those who need to know the minute detail of every possible permutation of the system. The assessments for those levels are applied as appropriate to the depth of complexity. There isn't one exam to rule them all.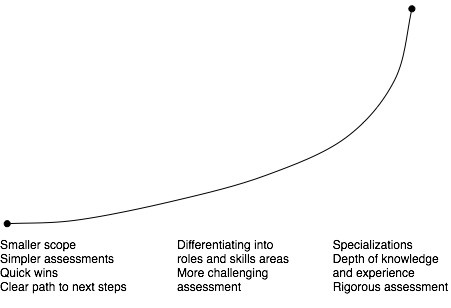 You may know of many other variations and alternatives. For example, there are exams which have no curriculum; there are certifications with no exam;s; there are entire systems with no accreditation oversight; nd there are public listing services with none of these components. 
I presented some of these examples in my presentation with Dominik Lukes at DrupalCon last week. I presented a variety of examples, and plotted them on a scale. For example Typo 3 Integrator - is a paper based exam administered at community events, €200 to take, and it doesn't expire. The corollary for Integrator in our community would be 'site builder'. Code Poet is an example of a loose reputation system. They ask can you spell WordPress correctly first of all, and do you have a page showing your WordPress work? It is moderated by humans yet we could still say the main focus is on reputation, not skills and is on the looser end... On the other side, "tighter" we have Red Hats examples of performance based exams. These are more costly and the barriers are higher. Certified to Rock is reputation based completely. CTR doesn't currently claim to be a validation of someone skills or knowledge in specific areas, but provides a quick metric of their involvement in the community. From that we can extrapolate their knowledge of Drupal.
Finally, of the models I demonstrated, Mozilla's Open Badge API was one that might be most peculiarly suited to our own needs. We could potentially even leverage their API and connect to the wider world of open source web skills development.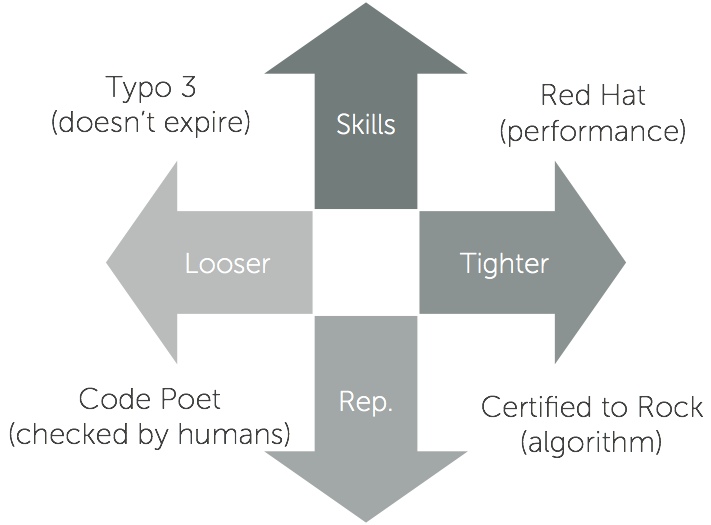 What's our situation?
Currently within the Drupal community we have a variety of opportunities for learning. Learners guide themselves in an ad-hoc manner looking for tutorials which solve a specific need. They might follow through books and online training, self-paced. They can take classroom courses; both short term or semester long courses. However, there are only a few assessments available, possibly only now available for those taking courses in the context of a degree in formal education. There are some proofs such as 'certificates of participation' provided upon completing a training course. 
Yet, this doesn't quite provide a comprehensive learning experience. New end users and developers to Drupal are both unsure of where to start. They can miss some important steps in learning Drupal which cause them incredible frustration later. And those with more experience are unsure how to develop their skills and expand what they have.
Worse, there are still massive gaps in the courses and learning materials available. Training providers and popular books seem to tread similar areas, leaving some big gaps to traverse. Yet the training providers, bloggers and authors can't quite see where these needs are.
Alternative model
What if the learning opportunities referred to the same community curriculum and spoke the same language in terms of navigating through one's learning experience? What if we had an alternative model which would allow for a variety of assessment methods, a variety of service providers while overseen by a community based shared curriculum and an oversight group to accredit the assessments and the providers? 

If we pulled out those stacks and looked at how they worked, we could see that the various learning opportunities would lead to appropriate assessment methods as relating to the level of the learner's experience as shown on the curve earlier.
Formative assessment could help learners find out what skills gaps they have, and summative assessment would be a declaration of their skills up to a certain point. The evidence or outcomes would also be appropriate to the assessment. Then the evidence could be federated in a system where a learner could display their chosen achievements. Community oversight could be a form of qualified accreditation.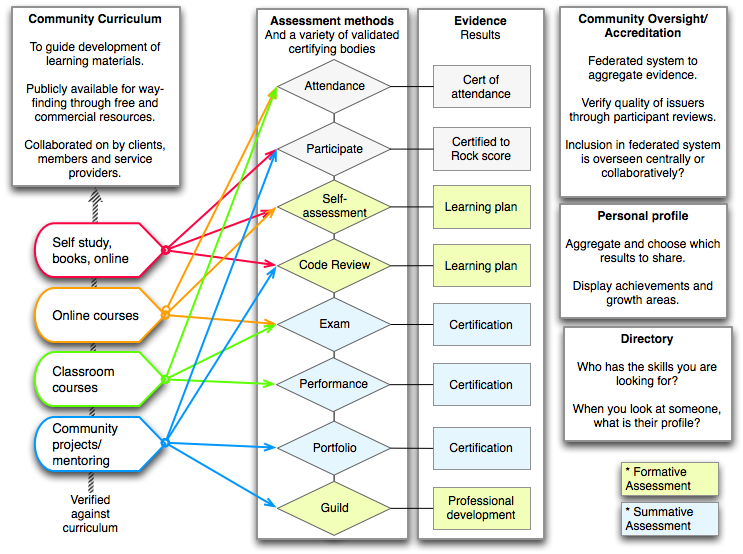 Who benefits?
The main beneficiary of this "small pieces" approach is the learner. The learner can avail of a variety of learning opportunities, then receive assessments to get feedback on their progress. She can also then choose to display her progress on her profile and begin to accumulate verifiable proof of her experience or skills.
Potential clients or employers can find it easier to locate the individuals they need. It can also be easier for them to trust the information a potential employee is sharing.
The community also benefits because we can see what skills are in shortage, and where to redouble efforts in growing the community.
As well this creates a field where a variety of providers can create opportunities and sustain businesses which focus on training or assessment while working closely with the community. Rather than a system where only a few organizations or companies dominate the space.