Santa Barbara Drupal

This group is for Drupalistas in and around Santa Barbara and Santa Barbara County, California, to connect and get to know each other. Follow @SBDrupal on Twitter for news and updates!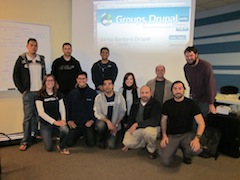 Our meetings have been held at a variety of locations since early 2008, including the Santa Barbara Hackerspace, RightScale, the Goleta Public Library, the Las Cumbres Observatory, coffeeshops like Java Station, French Press and the Daily Grind, and UCSB departments including the Marine Science Institute, Technology Management Program and Davidson Library.
We're very grateful to our past and present venue sponsors and are always interested in hearing from venue sponsors for future meetups. If you'd like to host a future meetup or event, please post a discussion in our group or contact @SBDrupal on Twitter. Thanks!
Subscribe with RSS