Start:
2012-05-25

10:00

-

17:00

America/Los_Angeles
Droplabs is happy to take part in Drupal Coworking Friday, a worldwide event spurred in part by the DrupalEasy Podcast #65, which featured Droplabs.
We're in Downtown Los Angeles and are happy to host members of our local community and anyone who is just passing through for some coworking, networking and collaboration.
This event is being hosted by Christefano and Paul Chernick, two of the Droplabs founders. We offer the following FREE services to help rock your workday:
Free parking on Clover St. and N. Main St. and in our large parking lot
Free, metered WiFi
Desks, chairs and Ergotron mobile workstations in our open coworking room (on a first-come, first-served basis)
Hundreds of square feet of whiteboard space
Use of our private conference room (unless previously reserved)
Access to our shared lounge area (unless previously reserved)
Heat / air conditioning
Droplabs is supported by donations, sponsorship of our events, venue rental and paid upgrades, including high-speed, unmetered WiFi, access to a full kitchen (with stove, oven, fridges, sinks, etc.), equipment rental, locker space for your belongings and unlimited coffee, tea, filtered water, sodas and espresso.
Drupal After Dark
After the day is over, a group of us may go to a nearby restaurant or pub. In the past we've had beers and a bonfire and were serenaded by Skrillex, who was rehearsing next door for the Mothership tour.
We've also gone to a variety of other locations, including Barbara's at The Brewery (at 620 Moulton Ave., just a 5 minute walk away) and Carnitas Michoacan (on 1901 N. Broadway, just a 5 minute drive away).
About Drupal Coworking Friday
Proposed date: Last Friday of each month
It takes place in your local city
Anyone can start/host one
Focused on Drupal Professionals (freelance, fulltime, part time, in office, home, etc.)
This is not a meetup, code-sprint, BoF or presentation
Attendees would still do their regular work/calls/etc
Other Drupal folks would be there to talk to, collaborate, advise (and likewise for the attendee)
Ideally, an entire section of the space will be dedicated for Drupal professionals
See http://groups.drupal.org/node/195983 for the Drupal Coworking Fridays FAQ and the Coworking group at http://groups.drupal.org/coworking for general information about coworking.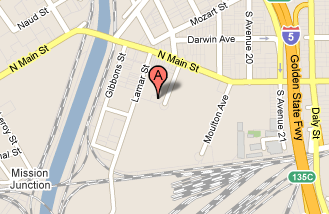 Location and directions
   Droplabs
   651 Clover St.
   Los Angeles, CA 90031
Droplabs is in the Mission Junction neighborhood of Los Angeles at Big Art Labs, just 1 mile down Main St. from Philippes (the first-ever venue for Los Angeles Drupal meetups!) and Union Station. We're one block west of The Brewery, the largest live-and-work artists' colony in the world.
Free parking in our large parking lot is first-come, first-served. After parking in the lot, follow the yellow signs that point to Droplabs. (If our lot is full, you can park for free on Clover St.)
Droplabs is a brief walk from the Main St. / Lamar St. stop on the the Metro Local 76 bus line. This is also the Lincoln Heights / Chinatown DASH stop.
To carpool or catch the Droplabs shuttle from Union Station, post below in the comments.
What to bring
Just bring your laptop, your business cards or whatever else you need. You're also welcome to bring some light food, sodas or beers to share with others at the meetup.
Please note that our guest wireless network is limited to 1Mb per client, so bring your MiFi router or a phone you can tether with if for some reason you need a lot of bandwidth. Access to our high-speed network is included with a Droplabs membership.
About Droplabs

Droplabs is a collaborative Drupal event and coworking space in Downtown Los Angeles. Created in 2011 by Los Angeles Drupal members for the Los Angeles Drupal community, we are focused on serving the greater Los Angeles Drupal community, enriching the Drupal skills and lives of its members, and bringing joy to our Drupal practice. Our founders represent several local area businesses that have deep roots in the Drupal and open source communities.
To learn more about Droplabs, visit droplabs.net, follow @Droplabs on Twitter, sign up at Meetup.com/Droplabs or like DroplabsLA on Facebook!
About Downtown Los Angeles Drupal
Downtown Los Angeles is one of the most active areas for Drupal in Los Angeles and LA County. We've been meeting regularly on the 3rd Tuesday of every month since early 2010 and now schedule up to 4 regular meetups a month and occasional trainings and social gatherings. Downtown Drupal members also produce special events, code sprints, and the annual Drupal Design Camp LA conference
Attending Drupal events in and around Downtown Los Angeles is one of the best ways to meet and talk with other Drupaleros and we encourage you to attend as many meetings and special events as you'd like. Whether it's to find solutions to problems you've been having, sharing something you've learned or just meeting interesting like-minded people, the Downtown Los Angeles Drupal events are an essential resource for Drupal professionals and hobbyists alike.
If you aren't already a member of Downtown Los Angeles Drupal, it's easy to join our community. Our community calendar is on our "Events" tab on our home page at http://groups.drupal.org/dtla