Start:
2010-11-16

19:30

-

21:30

America/Los_Angeles
Join us for another LA Drupal meetup at the offices of at Oversee.net on November 16, 2010 in Downtown Los Angeles. There will be several presentations as well as open discussions, job announcements and time for networking. Several of us may be going to a local bar or restaurant for a Drupal After Dark afterward.
This event is free – in fact, there will be raffle prizes and food and drinks will be provided – and no RSVP is required. To breeze through security and get free or discounted parking, however, you can sign up by logging in and clicking the Sign up button below.
The first 35 people to sign up will get free parking and anyone who signs up after that can get discounted parking. All who sign up will also have instructions and last-minute details (if there are any) sent to them before the meeting.
Be sure to update your profile with your full name so that a name badge will be ready for you at the front desk. To do this, log in and click My Account → Edit → Personal and fill in the "Real name" field. If you don't follow these instructions, be prepared to show a valid photo ID at the front desk.
We want your feedback!
During the meetup, we'll be gathered in the #drupal-la IRC channel and all are welcome to join us. The event organizers will also be checking Twitter for feedback and questions that mention @ladrupal or use the #ladrupal hashtag.
If you'd like to give a presentation, announce a job position or ask any questions of the group, please come a few minutes early or leave a comment below. If presenting, be sure to bring your laptop (and power and display cables) and whatever else you need.
   Job announcements and open Q&A
Everyone has a problem every now and then and the open Q&A session is a chance for attendees to divine answers from the collective wisdom of the group. This is also an opportunity for local businesses to make job announcements and ask for referrals and recommendations.
   Pantheon demonstration
Pantheon is a Drupal hosting service from our friends at Chapter Three. This new service has the usual stack of Drupal, Apache, MySQL and PHP but comes with extra high-performance goodness like Pressflow, Memcache, Varnish and Solr. If that weren't enough, Pantheon accounts have a complete environment where code and databases can be moved up and down from dev, test and production.
Sound complicated? It actually isn't, because all this functionality is managed with a pleasant point-and-click interface.
Pantheon just went into private beta and we have an invite code to give away to a lucky winner at our regular raffle drawing.
   Raffle! Prizes! Collect them all!
We love our sponsors and have several raffle prizes from our sponsors in the Los Angeles area and around the world. If you or your company would like to sponsor a raffle prize at the LA Drupal meetups, please come early or contact the LA Drupal managers at managers at ladrupal.org.
   Lightning talks
We have time as well for lightning talks, which are 5-10 minute presentations from attendees who would like to share something with the group. If you'd like to give a lightning talk, be sure to come a few minutes early and bring your laptop (and power and display cables) and whatever else you need.
As always, please feel welcome to leave a comment below and let others know what you'd like to present ahead of time.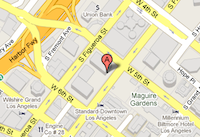 We're meeting at the offices of Oversee.net in Downtown Los Angeles. Oversee.net owns a large portfolio of online properties, including Moniker, SnapNames, DomainSponsor, AboutAirportParking.com and LowFares.com, to name a few, and is using Drupal extensively for their emerging businesses division.
Oversee.net is hiring a Senior Drupal Developer to join them in Downtown Los Angeles. To learn more about Oversee.net and their open positions, come to the meetup or visit Oversee.net/careers.
Travel
Our venue is easily accessible by bus (see mta.net for bus lines) and by commuter rail (the Red Line connection is Pershing Square and the Blue Line connection is 7th and Wilshire).
Parking
There is almost no on-street parking in the area but free parking is being provided to us by Oversee.net in the A level of the John Hastings Tower at 515 S. Flower St. The parking entrance is a very quick right turn heading underground, immediately after 5th St. To qualify for free parking, you must sign up by logging in and clicking the Sign up button below. Those who sign up will also have instructions and last-minute details (if there are any) sent to them before the meeting.
The LA Drupal community in and around Los Angeles, California, is one of the world's largest regional Drupal user groups. With regular Drupal trainings, monthly meetings and social gatherings, LA Drupal is Southern California's largest hub for all things Drupal. LA Drupal is also the producer of the annual DrupalCamp LA conference, the largest independent Drupal event in the world for three years running.
Attending LA Drupal events is one of the best ways to meet and talk with other Drupaleros and we encourage you to attend as many meetings and special events as you can, including the LA Drupal meetups on the Westside and in Downtown Los Angeles. Whether it's about finding solutions to problems you've been having, sharing something you've learned or just meeting interesting like-minded people, the LA Drupal events are an essential resource for Drupal professionals and hobbyists alike.
If you aren't already part of LA Drupal, it's easy to become a member. We have several meetings every month that are free and open to everyone. There are also social gatherings and formal working meetings that sometimes happen throughout the month. Events are announced at http://groups.drupal.org/la/events